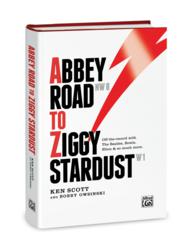 Los Angeles, CA (PRWEB) July 06, 2012
The GRAMMY Museum® will welcome back legendary producer/engineer, Ken Scott, to its Clive Davis Theater, Thursday, July 19th at 7:30 PM, for a unique evening of story-telling guaranteed to satisfy the most ardent fans and industry insiders alike. Co-author of Abbey Road to Ziggy Stardust (Alfred Music Publishing), a memoir book, Scott will discuss his time with The Beatles, David Bowie, Elton John, and a who's who of classic rock acts.
Abbey Road to Ziggy Stardust: The Talk is the ultimate inside chat about what it is like to work with the biggest acts in music history. From behind-the-scenes stories to myth busting and never-before-heard breakdowns of classic rock songs, the evening will be both entertaining and informative.
Seminal albums that Scott has collaborated on include Magical Mystery Tour and The White Album by The Beatles, and he co-produced David Bowie's Ziggy Stardust and the Spiders From Mars, in addition to many other groundbreaking releases. Having worked with classic rock acts including Pink Floyd, Procol Harum, Jeff Beck, Duran Duran, Harry Nilsson, Lou Reed, America, Devo, Kansas, and many more, Scott has also played a big part in the world of jazz, being the first to integrate a more powerful rock sound into the genre.
Fans and music lovers are invited to hear Ken Scott talk about the making of Abbey Road to Ziggy Stardust and his prolific career. Following the talk, Scott will take questions from the audience and will sign copies of his book.
Doors open at 7:00 PM. Admission is $15, on sale now and available at the Museum Box Office or online at Ticketmaster.com. American Express ticket purchasers will receive a special gift. All proceeds benefit the GRAMMY Museum. For more information, please call 213.765.6803 or visit grammymuseum.org.
ABOUT ALFRED MUSIC PUBLISHING
Alfred Music Publishing is the world's largest educational music publisher. Alfred produces educational, reference, pop, and performance materials for teachers, students, professionals, and hobbyists spanning every musical instrument, style, and difficulty level. Alfred's home office is located in Los Angeles, with domestic offices in Miami and New York as well as offices around the world including Australia, Germany, Singapore, and the United Kingdom.