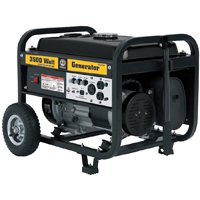 With smaller portable generators ranging from $100-$300, most families and businesses can now afford them
Destin, FL (PRWEB) July 08, 2012
A combination of severe weather and high temperatures has created a mess for northeast United States residents and businesses. A massive amount of perishable foods expired due to long-term power outages, resulting in millions of homeowners without fresh food, and unable to cook non-perishables due to a lack of power. With the future in mind, Disaster Relief Supply, an emergency preparedness online retailer, recommends an addition of a generator, food cooler, water storage device, or long-lasting MRE as a necessary addition to any household or business.
Generators are a useful and, more recently, inexpensive means of providing comfort and economy during a storm. With smaller portable generators ranging from $100-$300, most families and businesses can now afford them. A modern refrigerator should keep food cold and fresh for 8 hours. A small generator can power one large item at a time along with some additional lighting or other electronics. Rotating the load will allow a smaller generator to sustain a normal household in the 21st century for days. Along with a generator, a specially made long-lasting food cooler like the Igloo Quick & Cool 7 Day Ice Chest 150qt can keep cool for up to seven days.
If not in a position to own or use a generator, families could consider ready to eat meals (MRE's) as a simple solution to keeping canned or perishable foods. Most Ready to eat meal kits like the "Eversafe Meal Kit" contain perishable foods with long shelf-lives, and sometimes even utensils, spices, and drink mixes. If not interested in MRE's, portable cookware like disposable grills and gas/battery powered stoves and grills provide a means of heating and cooking food.
Unpredictable weather has been a trend in 2012, which leaves many consumers searching for emergency products to help them in the event that they are trapped in the next storm, fire, hurricane, or other natural disaster. Disaster Relief Supply is currently running promotions on many of its emergency storm preparedness products like generators, MRE's, emergency kits, chainsaws, coolers, and more.