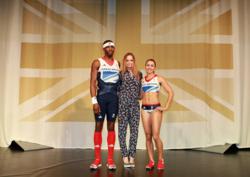 Los Angeles, CA (PRWEB) July 07, 2012
The experts at FIDM/Fashion Institute of Design & Merchandising keep a close eye on the seasonal runway shows in Paris, Milan, and New York to see designers' takes on the latest trends, but this summer they will join the world in watching the Olympic Games in London. While the athletic feats are sure to amaze and inspire, fashion fans will get their first impression of the various teams' sartorial choices when the Opening Ceremonies begin. The fashions and uniforms are likely to be as diverse as the athletes themselves.
Iconic American designer Ralph Lauren has created white uniforms with red and navy blue athletes for the Closing Ceremony and has not yet released what the Opening Ceremony outfits will look like. The Munich-based label Bogner will dress the German team with reversible zippered jackets, white chinos, and a lightweight pink or blue plaid scarf. The Jamaican athletes will wear bright yellow looks designed by Bob Marley's fashion designer daughter Cedella Marley.
British designer Stella McCartney for Adidas has created stylish high performance uniforms for Great Britain athletes for sports such as tennis, archery, track and field, cycling, football, and basketball. She also designed a Villagewear collection for the British athletes to wear off the field. Meanwhile, Giorgio Armani will outfit the Italian Olympic team in his official EA7 Emporio Armani 50-piece kit and Prada is the sponsor of the Italian national sailing team.
FIDM/Fashion Institute of Design & Merchandising is a co-educational, specialized, private college dedicated to educating students for the Fashion, Graphics, Interior Design, and Entertainment industries. Known as a one of the top fashion colleges, FIDM is also a leading graphic design school and interior design school. Visit fidm.edu for more information.