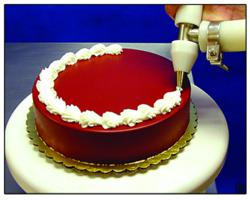 This is a great show, we always come back with qualified leads from all over the world.
Delta, BC (PRWEB) July 09, 2012
Unifiller Systems, a food and bakery equipment manufacturer, specializing in bakery depositors, transfer pumps, cake decorating equipment and food filling machinery will be exhibiting at this year's IBA World Market for Baking, Sept 16 to 21, 2012 held in Munich Germany. IBA, which occurs every three years, is attended by major players in the baking and confectionery industry, both sellers and buyers, worldwide.
Stewart Macpherson, Unifiller's VP of Sales and Marketing says "This is a great show, we always come back with qualified leads from all over the world. Over 1700 exhibitors from 55 different companies will be taking part in this year's event. With over 80,000 expected attendees, this year's event is geared to be a successful one!"
Among the many reasons to come and visit Unifiller's booth A3-111, are this year's Top 5:
1. The official launch of Unifiller's two newest depositing technologies - sure to be a hit with those looking for a versatile and budget friendly solution. We can't say much now, but check out booth A3-111 for a live demonstration!
2. An opportunity to speak to a Unifiller expert. See how Unifiller goes the extra step in ensuring an ideal and customized solution for their customers. From visiting plants, to investigating batch details, from testing products and ingredients in their testing facility, Unifiller understands that their success depends on their customers' success.
3. Accessories, Accessories, Accessories! Unifiller stand apart from competitors with 100's of accessories for almost every application imagine-able. Chances are there's an accessory for your very need.
4. View their automated line to get a better understanding of how Unifiller's modular design lets you move machines in and out of a configuration. The "plug & play" design allows easy integration of any Unifiller equipment with other equipment and accessories so you can grow from a standard single unit machine to a full production line.
5. Mix business with pleasure. Check out Oktoberfest, happening right after the IBA, World Market for Baking. Considered the world's second largest fair with over 6 million visitors, it's sure to be a highlight of your trip.
About Unifiller:
Unifiller, a global provider of depositors and cake decorating equipment, helps streamline production operations by providing solutions for achieving higher output, greater weight accuracy and better product integrity with an extensive range of single piston depositors, transfer pumps, multiple head units and fully and semi-automated production systems.