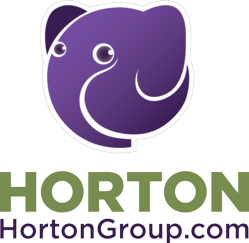 The biggest benefit of good graphic design for your company is building brand recognition.
Nashville, Tenn. (PRWEB) July 09, 2012
In the past having a catchy slogan or a witty tagline might have been enough to attract customers to a product or service. Not to downplay the importance of thought provoking text, but an interesting ad line combined with powerful, eye-catching imagery is always going to win out. Horton Group has opened up an entire new universe of graphic design for businesses and organizations looking to take advantage of a visually driven consumer market. That same market has become even more reachable through various social media platforms.
"The biggest benefit of good graphic design for your company is building brand recognition," states Horton Group Lead Designer Jason Hapney. "The quickest way to accomplish that is a memorable logo combined with well-placed media. You don't often encounter successful businesses with a bland web presence or uninspired visual branding. It definitely needs to be a top priority for of any business planning a new marketing or advertising campaign."
Gauging what customers know about brands has changed significantly. Of course companies are still doing focus groups and sending out surveys, but the explosion of social media marketing has made it a lot easier to gather consumer feedback. Successful brands have been quick to adopt social media because they represent huge online communities where they can get a lot of eyes on their advertising in one place. The recent rapid buildup of businesses using social media outlets like Pintrest, which focuses mainly on users employing imagery to share information, provides further proof of an emerging consumer culture locked in on the visual. If people are unable to associate a brand to some kind of imagery it is likely that brand will not remain with them for too long. Horton Group now offers a broad catalog of services businesses can use to improve market reach by combining effective graphic design with a well managed social media strategy.
Horton Group understands that not every company has the resources to employ skilled graphic designers who can convey the perfect messages using vibrant color schemes blended together with other creative elements. "Graphic design is not just thrown together - just because you have a unique logo or a really fun brochure doesn't mean those elements are conveying the intended message," states Hapney. "In our experience we have worked with a lot of businesses where it was doing the exact opposite and driving potential customers away. We show customers how to create advertising campaigns that produce results."
Just like crafting good content, crafting a good design takes time and attention. As Horton Group tells most customers, if there is anything to be learned from how visual advertising is used on social media platforms it is that when managed properly the return on investment becomes obvious - more followers, more fans equal better conversion rates.
About Horton Group
The Nashville based advertising agency has been helping build brand recognition for businesses and organizations of all sizes since 1996. They use a combination of marketing and advertising tactics to build effective communication strategies that address target audiences. In addition to graphic design and social media management Horton Group offers web design & development, search engine optimization, media buying and more.
For more information on Horton Group and their graphic design services, call 615-292-8642 or send an email to info(at)hortongroup(dot)com.