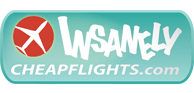 (PRWEB) July 07, 2012
InsanelyCheapFlights.com announced discounts today on flights from all states affected by the current heat wave. The sale includes flights from the site's home state of Virginia, where temperatures have been near the hundred degree mark since powerful storms knocked out power to millions of residents. The sweltering heat has spread across the southern and central parts of the country, leaving those lucky enough to have functioning air-conditioning holed up in their homes to escape the heat.
"The kids are out of school, the weather is terrible and for those still without power, it's the perfect time to leave," says Steve Oliverez, founder of InsanelyCheapFlights.com. Since 2009, Oliverez's goal for the site has been to help travelers find the cheapest flights available. When the power went out in most of his hometown of Sterling, Virginia, and temperatures started to climb, this focus on cheap flights became more urgent. "I wanted to help everyone get out of town."
To that end, flights from nearby Dulles Airport are discounted on InsanelyCheapFlights.com, as are airline tickets from other airports in the area, including BWI and Reagan National Airport. The heat, however, is not limited to Virginia, and neither is the sale.
Flights from Phoenix, where the temperature is expected to remain in the triple digits, to San Francisco are also discounted on the website, as are flights leaving Dallas and Atlanta. Travelers looking to escape the heat in Nashville can grab a discounted flight out of BNA and head for Seattle, where temperatures are currently in the mid-seventies. New Yorkers looking for a cool draft can head to Canada, with discounts on flights to Toronto and Montreal.
The heat isn't expected to subside any time soon, so the discount will continue at least through the end of the month - and for those not looking to indulge in last minute getaways, the discount is good on travel dates through the end of the year.
The promotional code to activate the ticket discount is found on the homepage of InsanelyCheapFlights.com, and is entered on the booking page when purchasing flight tickets. The promotional code applies to service fees and is good for flight bookings only.