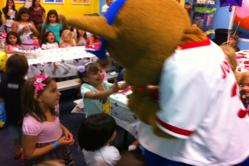 Had my son's birthday party was a BLAST! The staff was extremely accommodating. They all helped out in making the party a complete success. The party hostess was a total sweetheart & very efficient. Overall the experience was a wonderful one.
Miami, FL (PRWEB) July 08, 2012
The July issue of South Florida Parenting Magazine in its Kids Crown List named Jump A Roos, an inflatable play and party center located in Southland Mall in Cutler Bay, Florida, Best Indoor Activity in Miami-Dade.
"We are honored that the readers chose us as the best indoor activity in Miami. Our entire staff works incredibly hard at providing a safe, fun and clean atmosphere for the entire family. It is wonderful that both kids and parents love to come to Jump A Roos," said owner Gregory Fefferman.
With nearly 11,000 square feet and featuring 7 giant inflatable bounce house units and four private party rooms, it is clear why readers of South Florida Parenting Magazine recognized the birthday party and play center as the best in Miami-Dade.
Open 7 days a week for walk-in play, Jump A Roos features a full dining menu offering pizza, sandwiches, entrees and snacks. Additionally, Jump A Roos offers a redemption game area when kids want a rest from the exercise and active play. Admission is regularly $9.99 for children 2 and over and $5.99 for those under 2. Adults and children not playing are free. There are several membership plans for frequent visitors and on Tuesdays admission is only $5.99 all day.
The highly trained staff or "Roo Keepers" make sure kids are kept safe and entertained. They often interact with the kids with impromptu games of hide-and-go-seek, tag, and duck, duck goose. The best of the Roo Keepers are promoted to "Party Champions" who oversee the most hassle free and fun indoor birthday parties in the business. The Party Champion serves as the birthday party expert as he/she will advise on the food order, set up (and clean) the party room and even perform a series of magic tricks for the kids (and adults).
Given the uniquely fun atmosphere for the kids, the extensive menu options, the fantastic staff and cleanliness of the facility, Jump A Roos has established itself as the Best Indoor Activity in Miami-Dade.
To learn more about Jump A Roos, visit http://www.jumparoos.com or call 305.238.5867.
About Jump A Roos
Jump A Roos is located in Southland Mall in Cutler Bay, FL and is one of the largest indoor inflatable bounce house party and play facilities in Miami-Dade. It has nearly 11,000 square feet of space and 4 large party rooms. It is the top choice in birthday parties, open play, field trips and fundraisers for toddlers to 12.
Media Contact
Orquidea Deschapell
305.238.5867
http://www.jumparoos.com