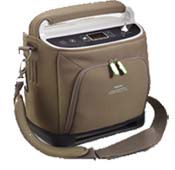 Houston, Texas (PRWEB) July 09, 2012
Sleep Restfully has Portable Oxygen Concentrators on sale at huge saving during the month of July that are ideal for those who need oxygen and require the mobility and convenience of a portable oxygen concentrator. For oxygen user looking to travel by air, then a portable oxygen concentrator is the only option. Call Sleep Restfully today and save! This July sale includes both pulse dose and continuous flow/pulse dose system from all major manufacturers.
Due to security purposes, oxygen tanks are prohibited and only limited numbers of approved portable oxygen concentrators are allowed to be taken on a flight. The process of taking on a portable oxygen concentrator can be complicated, but with careful planning, research, and preparation, the process should not be a large inconvenience.
The best course of action to take is to not procrastinate or wait until the last minute. It is imperative that someone research or contact the airline they are using to ensure that they receive the most complete and accurate information. Variations exist amid the airlines; however most of the rules and regulations are uniform. For instance: all airlines require prior notification, but they might differ in how soon in advance the notice is needed. Doing research on your airline, portable concentrator, and medical/system requirements should all be done well in advance to make the process easier.
As of January 2012, The Federal Aviation Administration (FAA) ruled the following portable oxygen concentrators can be taken onto aircraft:

AirSep Freestyle
AirSep Lifestyle
DeVilbiss Healthcare iGo
Inova Labs LifeChoice
Inogen One
Inogen One G2
Invacare XP02
Invacare Solo2
Oxlife Independence Oxygen Concentrator
Oxus RS-00400
Resperonics EverGo
Sequel
Approved and non approved portable oxygen concentrators can be brought on board with you, without notification if they are not being used during the flight. Batteries must be taken out during the flight if the concentrators are not being used. The airline's approval is now overridden by the FAA's regulation. If the FAA allows a portable oxygen concentrator, the airline must allow it too. The FAA's rules apply to any flight landing or taking off in the USA, and this includes foreign carriers.
If the portable oxygen concentrator is on FAA's approved list, then you should go to your doctor. Talk in depth with your doctor about your travel plans and medical needs. Documentation from a doctor is required by all airlines. There will be little, if any variations by airlines. For a doctor's note, it must clearly state:

That the user is capable of seeing, hearing and understanding the visual and audio warnings AND is capable of reacting appropriately to any warnings without assistance.
That if oxygen is necessary for the entire flight or portions of the flight.
The maximum oxygen flow rate required during the flight
That the user is responsible for battery life, including unexpected delays. Enough battery life is required for the entire duration of the flight, plus an additional 3 hours for unexpected delays.
Everything must be properly handled and stowed away on the flight. Extra batteries must be properly packed in carry-on luggage, or else the batteries will not be allowed on. The airline may require certain seating for portable oxygen concentrator users. Users may or may not be able to sit in exit rows.Portable oxygen concentrators should be kept underneath the seat, causing no impediments to accessing seats or aisles.
Careful and advanced planning is paramount to bringing your portable oxygen concentrator on board. Research as much as possible and contact the airline to see their specific requirements and rules regarding the use of portable oxygen concentrators or call Sleep Restfully. Knowing the ins and outs of what a portable concentrator user can and cannot do, what can and cannot be brought will ensure easy air travel.
Sleep Restfully currently has a huge selection of portable oxygen concentrators in stock and every one is special priced through July to make oxygen users' end of summer and fall travel season easy.
Sleep Restfully, Inc. prides itself on the high quality customer service it provides to Sleep Therapy and Oxygen customers. Sleep Restfully is proud to be rated by the Better Business Bureau with an "A" rating. They carry a complete line of CPAP, BiPAP and VPAP machines as well as CPAP supplies by ResMed, Philips Respironics, Fisher & Paykel and other manufacturers. In addition to CPAP machines and CPAP supplies, Sleep Restfully is your portable oxygen concentrator specialist offering the best prices and support for portable oxygen concentrators such as the Respironics SimplyGo, Respironics EverGo, Sequal Eclipse 3, Inogen G2, Invacare XPO2 and more. They also sell stationary oxygen concentrators such as the Philips Respironics EverFlo and Invacare Perfecto. Sleep Restfully, Inc. has been chosen as an Authorized Internet Provider for the new Philips Respironics SimplyGo Portable Oxygen Concentrator.
In addition, Sleep Restfully stocks all replacement parts for the CPAP machines and CPAP mask as well as replacement parts for all portable oxygen concentrators.
Sleep Restfully can be contacted on their toll free number (866) 923-2727, or by visiting our website sleeprestfully.com. During the coming days Sleep Restfully will offer special savings in celebration of their anniversary.
Sleep Restfully, Inc.'s superior customer service and low prices are a combination for success.