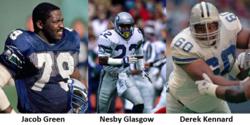 Bellevue, WA (PRWEB) July 06, 2012
With recent links to cancer and sleep apnea, it is more important than ever to spread awareness. A new study shows that cancer patients with untreated sleep apnea are five times more likely to die from cancer. This link is an addition to several other health issues that may stem from sleep apnea, such as an increase risk of heart attack, stroke, type-2 diabetes, obesity, depression, and others. In light of this growing problem sleep experts and former NFL players have teamed up to raise awareness throughout the United States in the nationwide campaign, "Tackle Sleep Apnea." .
The Mayo Clinic defines sleep apnea as "a potentially serious sleep disorder in which breathing repeatedly stops and starts." Obstructive sleep apnea (OSA) is considered to be the most common form and occurs when breathing repeatedly stops and starts during a sleep cycle. The amount of time of apneic events can range from seconds to minutes.
Seattle is the third stop in the "Tackle Sleep Apnea" campaign. The campaign is hosted by the Pro Player Health Alliance, and is taking place across the United States with a goal of tackling every region. The event is being held on July 14 at 2 p.m. and at Century Link Field located at 800 Occidental Ave. S. in Seattle, WA. This is free to the public with pre-registration. There will be a question and answer session for the press at 1 p.m.
Former Seattle Seahawk players Jacob Green and Nesby Glasgow and former Dallas Cowboy Derek Kennard will be sharing their personal experiences with sleep apnea.
Dr. Steve Carstensen, DDS, President Elect of The American Academy of Dental Sleep Medicine, and David Gergen of Gergen's Orthodontic Lab will be discussing the symptoms, dangers and possible treatment options for sleep apnea.
According to WEBMD, "Sleep apnea can affect anyone at any age, even children. Risk factors for sleep apnea include: being overweight, having a large neck size, large tonsils, large tongue, small jaw bone, or family history of sleep apnea."
As part of the event, free in-home sleep tests will be offered to the first 25 pre-registrants/ attendees of the event. Board Certified Sleep Physician Dr. Teresa Jacobs will be reading and diagnosing the sleep tests. Also assisting the effort to spread awareness is Dr. Steve Marinkovich, DDS, Diplomate of the American Board of Dental Sleep Medicine, practicing in Tacoma, WA. In addition, the NFL players involved will be signing autographs after the event.
To qualify for an in-home sleep test or to attend the event, participants must pre-register online at SleepTest.com/seattle or call either 1-855-MY-SLEEP or 425-614-5598 prior to the event. Visit Sleep Test to take an online questionnaire and find out if you are at risk for having sleep apnea.