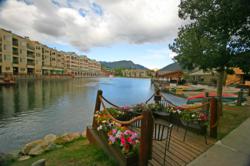 Keystone, CO (PRWEB) July 09, 2012
Keystone Resort is experiencing very pleasant temperatures in the 70s this week, and the pleasant summer temperatures have held steady at higher elevations. SummitCove Vacation Lodging has released an "Escape the Heat" special for visitors to Keystone, Colorado. Guests will save 35% on stays of three or more nights through September 30, 2012.
Reservations must be made using the discount code "BeatTHEHeat" by July 31st, 2012 to qualify for the special. The only blackout dates for the Escape the Heat special will be from August 3rd to 6th, 2012 during the Beer and Bluegrass Festival at Keystone. Reservations may be booked online or over the phone with a SummitCove Vacation Planner.
Keystone offers numerous activities on the water, including whitewater rafting, swimming, sailing on Lake Dillon, paddle boating on Keystone Lake, kayaking and stand up paddle boarding. Some other popular Colorado activities include horseback riding, hiking, and scenic gondola.
There are also children's events and free concerts taking place in Keystone throughout the summer, as well as the neighboring towns of Frisco and Dillon. One of the most anticipated upcoming events will be the Wine and Jazz Festival. Keystone Resort's Annual Wine and Jazz Festival takes place from July 14-15, and SummitCove is also offering a special lodging rate for the event. Guests should use the discount code 'Wine.Jazz.12' to save 30% on stays of 2 or more nights. This popular event includes music, wine seminars and wine tastings in River Run Village.
SummitCove guests should note that discount offers will apply to new reservations only, and not every property is participating,
----
About SummitCove Vacation Lodging
SummitCove offers nearly 300 vacation rental properties in Keystone, Colorado. Visitors to Summit County can choose from a variety of price ranges in beautiful properties from studios to private homes. Most properties offer amenities that include pool and/or hot tub access, fully equipped kitchens, balconies, and fireplaces. Guests have access to the River Run Village gondola and Keystone summer events and activities, as well as area restaurants and shops. Keystone is also within a short driving distance of resorts such as Arapahoe Basin, Breckenridge, Copper Mountain and Vail as well as the Towns of Frisco and Dillon, Colorado.