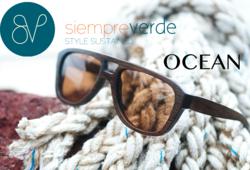 Our formula is clear, to make exceptional eyewear with a commitment to the environment
Marina Del Rey, CA (PRWEB) July 09, 2012
Siempre Verde's featured piece in its high-end line of unisex summer eyewear is the "Ocean" wood aviator sunglasses. The family-owned brand cultivates unique, high-end design while championing environmentally friendly practices. Seen on Network TV and featured in Yahoo News and other publications, Siempre Verde defies conventional wisdom by producing all wood eyewear that is upscale, sleek, and sexy. The founders recently launched a campaign on Kickstarter to fund production of this new line and are offering pre-retail pricing.
The Ocean sunglass has a classic aviator teardrop shaped frame in lightweight bamboo or zebrawood. This design made famous in the 1980's movie, Top Gun, exudes a timeless fashion statement in comfort and style. Like all Siempre Verde eyewear, these sunglasses are 100% handcrafted. From veneering to precision cutting to shaping and finishing, they meet the quality you would expect from a high-end premium brand.
The lightweight Ocean frame is as comfortable as it is flattering and the comfort spring hinges ensure a perfect fit on any face. And Siempre Verde's do what eyewear was meant to do, protect your vision. Each frame is fitted with premium polarized sunglass lenses that are scratch resistant, lightweight, and provide the highest protection from the sun's glare and harmful UV rays.
Siempre Verde's mission is to offer style-conscious urban professionals with naturally inspired accessories that can also raise their environmental awareness. "We believe that eco-friendly processes and materials can produce uncompromisingly beautiful products," says Founder, Rose Ann Salumbides, "Because each piece of wood is unique, so too will be your eyewear. You'll never see another pair that's exactly like yours." Siempre Verde, simply put, produces wearable works of art.
Urban dwellers and fun-loving beachgoers can learn more about Siempre Verde by visiting the ShopSiempre.com website. And to get the Ocean and other select styles at pre-retail prices for a limited time, visit the Siempre Verde Kickstarter Page today.