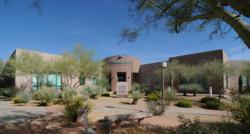 Scottsdale, AZ (PRWEB) July 10, 2012
Aggressive property marketers Accelerated Commercial Real Estate is successful again with the quick sale of Pinnacle East Corporate Center a 17,000 sq. ft. office property at 8955 E Pinnacle Peak Rd, Scottsdale with competing buyers placing bids. Phoenix has seen its fair share of disillusionment in the property market in recent years as buyer interest has slowed and become very discretionary.
Securing five offers in this commercial real estate climate is a testament to Accelerated Commercial Real Estate's advanced marketing strategy which generated immediate buyer interest driving sufficient traffic for prospects to compete to buy! The successful buyer had to compete with 4 other prospects - all of whom made offers.
"This type of competition maintains healthy prices so we were extremely pleased with the outcome of this deal and the interest we were able to generate through our accelerated marketing program" said President Patrick Burke. Attracting buyers at this rate which led to this sale tops what is already a very impressive record in commercial real estate closings in the region by Accelerated Commercial Real Estate using accelerated marketing strategies.
Accelerated Commercial Real Estate, a division of Paradigm Real Estate Solutions presents a platform to the real estate industry that is cutting edge marketing, sales, and business intelligence data analysis that is made available to Sellers to uncover hidden trends and powerful insights for Sellers. The company continues to dominate social outreach through their online concierge services and onsite sales team. Accelerated Commercial Real Estate and Paradigm use proprietary technology and a tested suite of marketing and sales techniques to deliver the next generation of real estate solutions for new home resort sellers, builders, developers, and financial institutions.
About Accelerated Commercial Real Estate
Accelerated Commercial Real Estate, a division of Paradigm Real Estate Solutions is a full service national Real Estate Sales and Marketing firm leveraging its proprietary technology platform Marketing Success Portal® to deliver the next generation of real estate solutions for homebuilders, developers and financial institutions. Paradigm Real Estate Solutions provides market research, proprietary web based technology and internet-centric methods. For more information visit http://www.Paradigmintel.com or http://www.acceleratedcre.com
Accelerated Commercial Real Estate at (602) 466-2325 (Local) (888) 938-8880 (Toll Free)