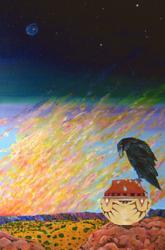 A gallery guest stated, "It would be wonderful to see art from this gallery in commercial buildings in big cities; it is warm and inviting and reminds me of nature."
Santa Fe, New Mexico (PRWEB) July 06, 2012
The personality of Last Gallery on the Right, 836A Canyon Road, Santa Fe, New Mexico, is unpretentious, pragmatic, and earthy. Aptly named, because that's where it's located, the walls and courtyard of this historic building feature art by five New Mexico artists who apply earth, air, fire, and water to their paintings and sculptures. Real leaves are strewn about the floors as decoration. The delicate web of a friendly spider is left to be admired in the courtyard. The gallery is alive with palpable creativity. An artist is always present, often at work on a painting, and always ready to share a story. The paintings range from 2 inches to 10 feet tall. Last Gallery on the Right is a "Featured Business" on SantaFe.com.
Collaboration among the artists and the community is a priority. Guests might witness artists painting together on the same canvas, and the gallery always sponsors a community organization at their events. The gallery's all-day art openings include music, dancing, interesting conversation, and the comfort of homemade chocolate chip cookies. The gallery's artists make it their business to share their joie de vivre.
The gallery's mission is to offer the beauty of our natural world, and to give back to the community. A gallery guest stated, "It would be wonderful to see art from this gallery in commercial buildings in big cities; it is warm and inviting and reminds me of nature."
About the artists at Last Gallery on the Right:
Thor Sigstedt creates at his foundry in Santa Fe County. Recently he completed a very large bronze raven and put it out to cool in a field. Soon afterward he was laughing as dozens of ravens landed near it, squawking, croaking, and walking around it with tilted heads.
Juniper Storm paints images of children scaring away colorful fuzzy monsters; ideal art for children's rooms.
Touché paints horses, a favorite of which is a rainbow colored horse titled Celebrate Diversity. He captures their regal stance and graceful motion on canvas. His New Mexican landscapes are vibrant and full of depth.
Jacqueline Almond incorporates barbed wire, flowers, butterfly wings, and accidental seeds into her abstracts.
Linda Storm's infatuation with myths and mysteries is made clear on her canvases. Many of her paintings glow in the dark and have a completely new look after the lights go out. Once a man convinced her to sell a painting she was creating at the gallery before it was finished. It had a glow-in-the dark moon in the night sky, below it a day sky, and then bare canvas. He sent a thank you note with a personal explanation; "The empty canvas reminds me of my life, it is always evolving, the sky is the constant."
Contact:
Last Gallery on the Left
Linda Storm (505) 660-5663 stormartist AT gmail dot com
836A Canyon Rd.
Santa Fe, NM 87501
Lastgalleryontheright at gmail dot com
SantaFeGallery.biz
About SantaFe.com:
SantaFe.com provides locals and visitors to Santa Fe alike the most current interactive platform for events, music, arts, business, dining and lifestyle. SantaFe.com is a division of Hutton Broadcasting, located at 2502 C. Camino Entrada, Santa Fe, NM 87507
Contact Information:
Scott Hutton
SantaFe.com / Hutton Broadcasting
http://www.santafe.com
(505) 471-1067 (Media inquiries only, please)