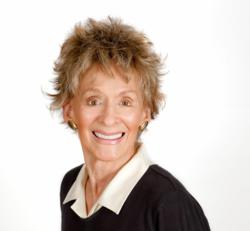 We know what it takes to outsmart Mother Time and avoid the lures, traps, and pitfalls of the aging process."
Escondido, CA (PRWEB) July 10, 2012
Barbara Morris is passionate about her new Put Old on Hold e-Magazine. "We want to encourage boomers to ignore chronological age and have a plan to find and exploit their latent potential and stay productive in retirement. A plan is needed because after a couple of years of enjoying the 'retirement honeymoon' phase, many retirees settle into a conventional sedentary existence and wonder how they got there."
"We want to help boomers avoid that surprise," says remarkably youthful Morris. "Time is on their side. If they are growth-oriented and learn to challenge horse and buggy tradition before retirement, they can have a fulfilling 'got it goin' on' life at a time convention says they should be in decline, playing bingo and shuffleboard at the senior center. We know what it takes to outsmart Mother Time and avoid the lures, traps, and pitfalls of the aging process."
The new Put Old on Hold e-Magazine is attracting enthusiastic feedback from readers:
"I really like your digital format so much better! I also like the long list of links near the back which you can click on if you have an interest! Your news and information is very valuable and recently I realized just how much. I have a tax accountant who has done my complicated taxes for years and just learned she is 90! It goes to show that staying vital with a job you love and not focusing on the age thing really works."
"You are a treasure and I loved your "I'm Not Goin' There" eBook. After reading 3 of your books, I am finally getting the message about the "existence manager" and the "aging gracefully trap." I am finding it difficult to do battle, which comes with the territory. I'm just so glad to BE AWARE of this trap. You have helped me see something that I never knew existed, nor that it was exercising its influence on me. You are a genius. Keep writing to us."
The untraditional monthly's new and dynamic digital format makes it easy and fun to flip through the pages. Clickable links (including links for audio and video) make it exciting for readers and ideal for advertisers. "It's cool, and everyone loves it," says the unconventional editor/publisher, who uses her computer expertise to produce the magazine.
Writers wanting to contribute articles to the Put Old on Hold e-Magazine are encouraged to download submission guidelines. "It's important to emphasize we are not looking for traditional 'let's grow old gracefully' or 'senior lifestyles' material. In our magazine the "senior" word, especially when applied to mature women, is taboo."
About Barbara Morris
Barbara Morris is a pharmacist and advocate for lifelong learning and productivity. She writes for boomers helping them avoid premature decline as they go through the aging process. Her new e-book, I'm Not Goin' There! has been nominated for a Global e-Book Award and is available on Amazon Kindle and other online stores. She is also the author of Put Old on Hold, No More Little Old Ladies, and I Don't Wanna Be My Mother!