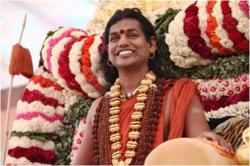 Let us continue to radiate enlightenment. Go around share the spiritual strength with the world.
Los Angeles, CA (PRWEB) July 07, 2012
Tiruvannamalai, 03 July 2012: The celebrations began with devotees welcoming His Holiness Paramahamsa Nithyananda with traditional honors. After paying his respects at the ashram's temple dedicated to Nithyanandeshwara and Nithyanandeshwari (Shiva and Devi), Paramahamsa Nithyananda hoisted the Guru Poornima flag. This was followed by pada pooja by devotees and the Guru Poornima satsang.
His Holiness Paramahamsa Nithyananda delivered the 2012 Guru Poornima message by reminding his disciples and followers that persecution is a spiritual challenge which almost all revolutionary masters and their followers will inevitably need to face. He reiterated that the strength of a spiritual group lies in its ability to live and radiate enlightenment, not in its wealth or its properties. Paramahamsa Nithyananda said that wherever an enlightened spiritual master chooses to sit down, followers will gather around to receive his wisdom and his grace, and a new spiritual community will sprout at that very spot, irrespective of the place.
The highlight of the morning satsang was the sannyas initiation by Paramahamsa Nithyananda. 34 young people, both men and women, took sannyas initiation on this auspicious day. Sannyas is the only true wealth I have, which I am now offering to these dedicated individuals,' declared Paramahamsa Nithyananda on the occasion.
Satsang was followed by darshan and individual blessings from Paramahamsa Nithyananda for all the devotees present. Devotees also offered 'bhiksha', various offerings made to the guru on this occasion. This year, participants from over 40 countries participated in the online satsang and offered bhiksha online from around the world.
Annadaanam (free satvic meals) was available from sunrise till late night for devotees, visitors ad pilgrims.
Tiruvannamalai - home of enlightened masters: Tiruvannamalai is an ancient temple town and pilgrimage center at the sacred foothills of the mystical mountain Arunachala in South India. A spiritual destination famous for its ancient Shiva temple, as well as for the unbroken 2000 year recorded lineage of enlightened masters like Bhagavan Ramana Maharshi who have graced this land, Tiruvannamalai is also the birthplace of Paramahamsa Nithyananda. Every full-moon day, at least half a million pilgrims visit Tiruvannamalai to circumambulate the holy mountain Arunachala.
1008-shivalinga kshetram: The Nithyananda Dhyanapeetam ashram, located on the mountain path, has a 1008-shivalinga kshetram and a shrine dedicated to Shiva & Devi. The ashram is actively involved in supporting the local community, including serving free food (annadaanam) to over 1500 pilgrims and visitors every day and conducting free weekly medical camps and meditation programs.
ABOUT HIS HOLINESS PARAMAHAMSA NITHYANANDA:
Videos on Enlightenment Science:
http://www.youtube.com/watch?v=ty1DtDKt-08&feature=plcp
Kundalini Awakening videos:
http://www.youtube.com/user/LifeBlissFoundation/videos?query=kundalini+awakening
Paramahamsa Nithyananda is not only one of the most watched Spiritual Guru on YouTube, he is ranked as one of the world's 100 most spiritually influential personalities. He has recently inherited the world's oldest and most ancient Hindu Spiritual Organization – the Madurai Aadheenam, by being coronated as the 293rd pontiff of Madurai Aadheenam.
Paramahamsa Nithyananda is a global leader in yoga, meditation, kundalini awakening enlightenment science. Clear, dynamic and modern in approach, Nithyananda's teachings have already transformed 15 million followers in 150 countries with the fastest growing spiritual community around the youngest incarnation.