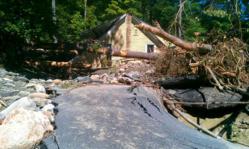 The parade will take place on Sunday, August 26, 2012, beginning at noon.
South Newfane, VT (PRWEB) July 07, 2012
One year after Tropical Storm Irene battered this small Vermont village, residents are hosting a parade to raise money for the local fire department and celebrate the community spirit that prevailed in the storm's aftermath. It will take place on Sunday, August 26, 2012, beginning at noon.
The parade will travel along Dover Road, one of the hardest hit thoroughfares in Windham County, starting in South Newfane and ending at the grange in Williamsville. Community members and the public are being urged to join the businesses, organizations and nonprofits marching in the parade.
Brattleboro-based Top of the Hill Grill will host a barbeque lunch at the Williamsville grange immediately following the parade.
Proceeds from the event will benefit the South Newfane/Williamsville Fire Department. "They truly risked their lives to get us out of our houses that day," said Christine Triebert, a South Newfane resident and parade organizer whose property was heavily damaged by Irene. "It's the least we can do for our guys."
Businesses and individuals interested in marching in the parade should contact Chris Triebert at chris(at)rockriver-studio(dot)com.
ABOUT ROCK RIVER REVIVAL PROJECT
The Rock River Revival Project is a community organization dedicated to revitalizing the devastated villages of South Newfane and Williamsville, Vermont, in the wake of Tropical Storm Irene. It is composed of community volunteers. Follow the group's efforts online at facebook.com/NewfaneBulletin.