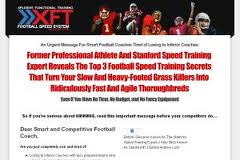 "You can't teach speed," muttered my mentor. He was as old-school as it gets and coaching clichés like that had been engrained in his mindset for 43 years.
(PRWEB) July 10, 2012
C.J. Easter, B.S. MS & E/CPT has launched XftSpeedSystem.com. The website highlights Easter's XFT Speed System. The system is designed to help the coach with no time, no equipment, and a limited budget. Easter is a former Stanford football player who is known as a High-School Speed Training Expert. The Complete XFT Speed System Manual plus five instantly accessible videos are available for $67.00. The product comes with an Iron-clad, 100% Money-Back Guarantee.
The XFT Speed System was exclusively designed to help coaches help their athletes reach their full athletic potential. Coaches across the country will find this product helpful as it is easily accessible, affordable, and developed by someone who played football for one of the country's most respected institutions.
The XFT Speed System package is only available on C.J. Easter's website. The drills suggested by the product can be performed indoors or outdoors. Each drill and proper form is performed in the videos and has accompanying photos and an exercise description in the manual. Plus, each video break s every single movement down point by point and even in slow motion.
SportingNews.com recently did a full feature on the importance of speed in the game of football. Even Packers.com has attributed "speed" as a possible answer to "fix" defense problems.
"C.J. Easter's product is something every football coach should gravitate to," says Helene Vece, CEO of JumpStart Ink and Public Relations Manager for the XFT Speed System. "Coaches of any caliber are always looking for secrets to help players improve their speed and ability to change direction. But, no coach wants to take the time to study speed training. This product is a risk-free, essential part of improving speed for football teams who are looking for the competitive advantage."
"My first video dives right into the question on everyone's mind," says C.J. Easter. "If we are getting smarter and better as coaches, why are more athletes getting injured on the field? Well, The "Machine" approach to making athletes faster and keeping them injury free is addressed right away. My system, if executed properly, is designed not only to help develop better athletes, but also to prevent injury."
The XFT Speed System will help football coaches teach speed in six weeks. The completely "done-for-you" program has exact sequence and progression of every drill. Coaches can buy it, print it, and use the scripts on the field immediately. Members of the media are encouraged to contact C.J. Easter or Helene Vece for a gratis copy of the XFT System for review. Interviews with C.J. Easter are available for qualified members of the press.
WHAT OTHERS ARE SAYING: "I have various tools available through a broad range of contacts but your program seemed to be the right fit. Openly I modified it a bit using cones/ladders/hurdles for one of the 6 daily segments and took it to 3 days a week, but it is your program. In 3 weeks these kids have improved dramatically. From the top athlete to the one with heart but little natural talent these young men have seen it for themselves; a transformation has taken place that they see with their own eyes. One young man, rather large, told me he cut 1.5 minutes off his mile time. When I asked how/why he said that he wrestles for a summer club team and that the coach times them in the mile each week. After his last run the coach asked him how on earth he cut his time by a minute and a half. He jokingly asked if the boy was on steroids. The young fellow, as he told the story to me, said that the difference was that now he had a speed and agility coach & he is working hard. He was proud of himself and the hard work he put into his improvement. CJ, that is what it really is all about – sports in general. Making a difference in a kid's life by helping them gain confidence, become just a little bit better in their minds, a little happier about who they are and how they matter is what sports should really be about. Make no mistake even the top athlete is improving. He grabbed me after Monday's practice and thanked me. He attended a camp over the weekend and said that his pro agility and L drill times were the fastest he has ever run. He said his Dad told him he never looked more fluid and effortless as he did that day.
This has been the largest summer turn out they have had in years and we are getting new kids to participate weekly... These kids see hope and it started with tangible improvement in the way they move & your program was the basis."
More info at: http://www.xftspeedsystem.com/