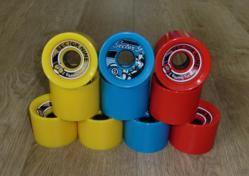 These wheels are the best for busting out huge standies and goin' super fast
Annapolis, MD (PRWEB) July 08, 2012
Longboarders are picky. No rider wants the same exact feel from his or her board. With this said, the choice of wheels far exceeds that of any other longboard component. A single model of wheel could come in 5 different duros 4 different colors and 8 different sizes. And now wheel is exactly the same. That's why Pure Board Shop tries to carry as many brands possible in wheel. In the newest shipment from Sector 9 are wheels that are bound to get riders stoked.
There are two formulas that Pure now has in stock from Sector 9. They are the Freeride Formula and the Race Formula. Sector 9 Race Formula wheels have long been a standard in downhill skating and freeriding. The offset square lipped wheels are designed for ultimate traction, while the center set round lipped wheels are excellent for busting out huge slides. They come in a multitude of sizes and 3 duros. Yellow:78a Blue:80a and Red:82a. The other formula, the freeride formula comes in a wheel called the Butterball. These wheels are made for being sideways. They break out extremely easily and feel like butter in the slides. These wheels come in 80a and in 70mm and 65mm.
Pure Board Shop opened its doors on May of 2005. Its ease of access and parking make it a destination shop for riders and urban street ware fans alike. With their mix of products and variety in skate, snow, surf and exclusive streetwear and shoe brands Pure's customers extend far beyond their Annapolis location. Pure prides itself on making customer service its number one priority, with product knowledge and having the right product mix a close second. The store and the website feature an ever growing brand inventory such as Nike SB, Nike Snowboarding, Adidas skateboarding, Vans, Diamond, HUF, LRG, RVCA and The Hundreds. The shop also prides itself on having the largest variety of longboard equipment in the area; with brands like LandYachtz, Rayne, Caliber, Cult Wheels, Abec11 and many more. Pure puts on monthly skateboard jams/events in their local skateboard park as well as sponsors many longboard slide jams in the DC Metro Area.
Contact Pure at 410-267-7669 or visit them on the web at pureboardshop.com