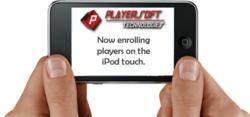 "Mobile Enrollment enhances casino operations by streamlining the sign up process. It improves data accuracy and increases profitability in a number of ways." This is a must have for any casino operator who wants to increase membership in the Players Club
Las Vegas, NV (PRWEB) July 09, 2012
PlayerSoft Technologies has installed their Mobile Enrollment system at Jackson Rancheria Casino as an essential part of its player's club operations. The system allows any casino staff member to sign up new players for the casino player's club anywhere on the casino floor via a specialized iPhone or iPod Touch.
"We are part of a community that is very digitally oriented and it moves very quickly. We need to capture their attention immediately and get them involved in our Dreamcatcher Club, so that they can enjoy all the benefits of club membership." says Mark Bommarito, Director of Marketing at Jackson Rancheria. "PlayerSoft mobile enrollment allows us to quickly enroll our guests and we can do so without disrupting their gaming entertainment. That creates a positive experience for them, which creates happier players for us."
Mobile Enrollment's open design interface can operate with any casino player tracking system, as with Jackson's Aristocrat Oasis 360 system, transforming the loyalty club sign up process from several minutes at a club booth to just a few seconds anywhere on the casino floor, significantly reducing lines at the player's club booth.
"The advances in mobile technology have finally made mobile sign up practical. Jackson Rancheria is in a fast competitive market where customers have many options for entertainment. This system can have a real and measurable effect on helping them stay in front of their players with offers and entertainment opportunities," says Tony de Leon, President of Playersoft. "In the highly-competitive gaming markets today, the enhanced service provided by Mobile Enrollment offers a significant competitive edge to the casino operator."
Utilization of an iPhone or iPod makes the entire system small, lightweight and very intuitive. This combination with the Playersoft Mobile Enrollment application makes a product that is fast and extremely simple to use. "At PlayerSoft, we have extensive casino operations and marketing experience and know the importance of making the casino player's visit convenient and hassle free regardless of a property's size," said de Leon. "Mobile Enrollment was designed specifically to enhance casino operations by streamlining the enrollment process. It improves data accuracy during the sign up process and increases profitability in a number of ways." "Mobile Enrollment is a must have for any casino operator who wants to increase membership in their Player Loyalty Program."
In a recent study using Mobile Enrollment, virtually 100% of the Casino Player sign ups had complete, accurate address information.
Mobile Enrollment also features an offline mode allowing staff to enroll players at offsite events adding even greater reach to enhance the player's experience and create a positive impression of the level of service the casino is able to provide. "We continue to receive interest from operators of all sizes, and while each might have a different reason for wanting our Mobile Enrollment, each finds our system can be seamlessly incorporated into their players club operations," added de Leon.
Playersoft Technologies began operations in August of 2010 with a mission to help casino operators improve the players gaming experience creating a positive effect on player retention and profitability. Playersoft products are currently installed in several gaming markets across the U.S.