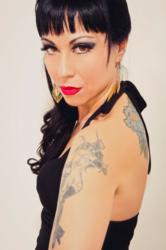 It's never too late to try out modelling
London, UK (PRWEB UK) 10 July 2012
Another aspiring model launches her modelling portfolio and chooses La Mode London as her photographers of choice.
http://www.lamodelondon.com are the commercial photography company in the very heart of modelling London and they celebrate the launch of their latest modelling portfolio available to view online today.
'Sonia was great fun to work with,' explains Helen Smith, director for La Mode London.' At the age of 43, she is a wonderful example of showing mature ladies that it's never too late to try out modelling. She had a goal to change careers after coming to a crossroads in her life, so why not be a model?'
Sonia is very keen to try out a new career and would like to give modelling a go so that she can enjoy being creative and work in a career which allows her to blend both her business knowledge with her modelling, but also with performing. She is a keen dancer and practices martial arts regularly so she certainly has the rhythm and stamina to take modelling in her stride. When asked why she became a model she said,
'I'm currently working as an investment banker but exploring different career paths, I have a very creative mind and would love to balance business with performing arts and modelling, I'm a risk taker therefore I will try anything challenging, in life it is worth it to try and keep open different options.'
Sonia would like to try fashion, catalogue, advertising and commercial modelling. She isn't shy about showing off her body and would be interested in glamour work and also life and art modelling in front of students. Her wonderful body art in itself is worth a second glance, making her a great candidate for speciality modelling, using various parts of her body, rather than the whole.
'It's not all about having perfectly flawless skin and looking atypically skinny like the imaginary fashion models,' explains Helen. 'Sonia would do very well in speciality modelling, using not only her face, which is unusual in itself, but also her tattoos which could be used in relation to some sort of advertisement or promotional work. Models have to think outside the box and go beyond the image of strutting down the catwalk because there is so much more to modelling than that.'
The 5 foot green eyed girl may not be the tallest model in the world but she would certainly make a name for herself within the petite modelling category. In her leisure time Sonia is very creative and likes to paint and draw, as well as to read, act, and listen to music. She loves to attend the theatre and concerts.
La Mode certainly think Sonia has fantastic model application and is a wonderful role model for mature females everywhere. They believe her creativity and her love of dancing will show through in her future modelling work, creativity being one of the foremost attributes a model can have to see beyond simply posing but being able to see the end product as well.
'This is what modelling is all about, taking that step further to gain respect and reputation as standing out from the crowd,' says Helen. Sonia obviously has high principles and isn't afraid to voice her opinion. When asked who inspired her, she said,
'I don't really have a particular famous role model as I can't stand people who follow others. Is it really necessary to have a role model these days? I like strong, classy, intelligent, powerful independent women that are able to stand up for themselves.'
Visit Sonia's brand-new portfolio and accompanying website online today at http://www.lamodelondon.com, as well as viewing all the latest modelling portfolios to arrive as they happen.