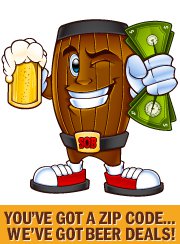 "There's a perception of craft beer drinkers that it's always 'Spare no expense. Find me the best.' Yet, our survey found that to be simply not true."
Houston, TX (PRWEB) July 11, 2012
One in four beer drinkers say price matters when it comes to craft beer. A recent survey of 1,000 craft brew enthusiasts conducted by SaveOnBrew.com looked at attitudes and trends of beer buyers. While 95 percent of craft brew drinkers confess to having purchased an "exorbitantly high" beer on occasion, there seems to be a rising number of craft beer fans who want "an honest brew for a fair price."
"Truth be told, we were genuinely surprised so many people cared about beer price when buying craft brew," admits SaveOnBrew founder, Mark Davidson. "There's a perception of craft beer drinkers that it's always 'Spare no expense. Find me the best.' Yet, our survey found that to be simply not true."
Other survey findings include the following:

56 percent of craft brew drinkers buy beer from a specialty shop they know carries a great selection.
89 percent of craft beer drinkers say it's often "difficult" to find the beers they are interested in.
Price aside, craft beer drinkers rate: Drinkability, Freshness, and Accessibility high on their wish lists.
They ranked factors like Label Artwork, Name and Uniqueness lower on their list of values.
97 percent of craft brew drinkers said at least one of their purchases was directly influenced by a blog, ad, or social media post this year.
"We were thrilled to find that craft beer drinkers are very much into social media and beer blogs," Davidson explains. "By nature, the craft beer lover is always seeking out new brands, flavors and information. At SaveOnBrew.com, we are adding new craft beer listings on a daily basis to keep up with the demand. Many of our fans also brew their own beer, so we try to cater to that audience in our blog as well."
SaveOnBrew.com is like Google for beer prices. Consumers need only enter a zip code to access an updated list of the latest beer local deals. Users can narrow down their search by selecting "Craft/Cider/Micro" under the "Beer Type" tab. The site lists everything from Blue Moon, Sam Adams and Brooklyn to Roscoe's Hop House, St. Arnold and Stone Brewing Co. In addition to beer prices, consumers will also find maps to retail locations, blogs about beer, drinking game rules and a small retail store selling beer steins and beer pong tables.
Thirsty beer drinkers are invited to visit http://www.SaveOnBrew.com for more information.
About SaveOnBrew.Com: Founded in 2010 to help thirsty beer drinkers across the United States find the lowest advertised prices for one of the world's most popular beverages.