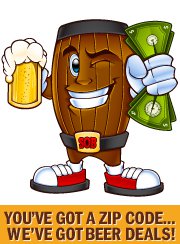 What if we could create a website that was like the Google of beer deals?
Houston, TX (PRWEB) July 12, 2012
Two short years ago, thirsty beer drinkers were at the mercy of big box retailers. They bought beer at the supermarket, the gas station, or wherever was convenient – and paid the price. This wasn't good enough for Mark Davidson of Houston, Texas. He would spend hours sifting through sale ads and calling stores to find the best deals. Soon, his friends were calling him to find out where they should shop before the Super Bowl and the 4th of July.
"We became well aware that there was a void in this market," Davidson explains. "We knew that Houston couldn't be the only market in search of affordable beer during a recession. We wondered, 'What if we could create a website that was like the Google of beer deals?' Now here we are – with more than 25,000 Facebook fans and more than 12,000 twitter followers."
SaveOnBrew.com lets consumers search local beer sales and prices in any U.S. zip code. They can shop by retailer, beer brand, beer style, and container type. Maps to the nearest affordable beer are also available with the click of a button. This website is the only compilation of timely, accurate beer price data in America.
Social media can be a tough nut to crack. Yet, it can also be a great arena for creating brand loyalty and rabid fans. "Amazing how this page is already so close to 25,000 likes! Awesome! I <3 SaveOnBrew," writes fan Courtney Watt.
"You rock SaveOnBrew!" adds US Army Mechanic Joey SiTortilla. "I'm still rocking your sticker on my truck! A lot of people have asked about it and visited the website! You're making a lot of news in the Brew industry!"
SaveOnBrew.com offers the following tips for building a winning brand via social media:

Brands should focus on making their walls heavy on photo content. A visually stimulating page will be visited more often than a page that is cluttered with status updates no one cares about.
Brands should link back to their blog posts – and post regularly. Often, a social media page link will receive more discussion than the actual blog. Users are more likely to make blog comments if they can do so using their Facebook IDs, so the blog and social media page should be linked.
Brands should post something funny at least every week. Whether it's beer can curlers, a Tebow joke, or a guitar-playing grizzly bear, posts should catch fans' eyes.
Brands should play nicely in the sandbox and "Like" others. Visiting complementary brands, media outlets and fans often results in friends adding back. This is especially true for Twitter.
Brands should run contests to give away swag. Fans absolutely love free. Giving away stickers, t-shirts, mugs or any other type of promotional material will win the most loyal fans – and free word-of-mouth advertising.
"For us, it's not about direct sales. Our service is free," Davidson explains. "We're using social media as a vehicle to get our helpful service out to as many people as possible. We're also hoping to build a buzz that will attract advertisers who want to market to our audience and get a superb deal on banner space."
"I think the dialogue we create online does fill a void for people," adds Jennifer Davidson. "The work day can be dull. Our site is always publishing funny photos, interesting articles, and controversial op-ed pieces that stir up discussion. We try to make our site a place of respite and enjoyment."
Thirsty beer drinkers can find great deals and links to Facebook at http://www.SaveOnBrew.com.
About SaveOnBrew.Com: Founded in 2010 to help thirsty beer drinkers across the United States find the lowest advertised prices for one of the world's most popular beverages.