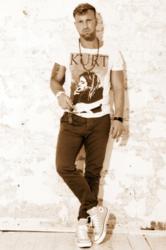 The attributes in becoming a model is to have good looks, talent and the right personality
London, UK (PRWEB UK) 11 July 2012
At 26, the latest male model to have their portfolio launched by the commercial photography company in the heart of modelling London, shows maturity and style.
As a semi professional footballer from the age of 13 to 17 years old, Brookin Johnson also played tennis for Essex County. He got to meet some inspiring professionals along the way.
Having a very athletic and committed lifestyle when he was growing up, he loved every minute of his sporting prowess but due to serious injuries he was forced to give it all up and think again. Since then he has been recovering and enjoying his time travelling to different parts of the world. This Essex boy is an inspiration to others. But when asked about his own, he said,
'My biggest inspiration, who is also very popular, is David Beckham, purely because I think I have a lot in common with him and he's been hugely successful. Being from Essex too, I admire how he's come from a professional, talented footballer to modelling and branding lots of different companies across the world, including himself. Also I aspire to how he has used his fame and fortune in charitable ways. Not only helping younger talents in the sporting world but also for very important subjects over the whole world such as aids and malaria. I'd love to follow in his footsteps.'
La Mode think this is certainly a great attitude to have and also a fantastic role model to emulate.
'Brookin has certainly got what it takes and is very good in front of the camera. In our opinion the attributes in becoming a model is to have good looks, talent and the right personality and the way that people warm to him so quickly as he listens and adapts to model instruction, certainly shows great potential,' says Helen.
'Modelling has run in my family and I have always been interested in fashion, beauty and fitness.I would like the opportunity to break into the industry and see how far I could go.'
Not having had much experience as yet and only working on a few modelling shoots for photographers and designers for hair and makeup so far, this shouldn't hold Brookin back.As one of the capital city's most prominent model commercial photographers, the team at La Mode certainly offer the best advice in the industry. Not only do they give out hints and tips free of charge on their famous photo shoot days, the service is an ongoing thing, available for any model to get in touch with them whenever they need to.
Brookin is interested in advertising and commercial Modelling, catwalk and fashion, as well as exhibition and promotional modelling. Not shy about taking his clothes off, he would also undertake art and life modelling.He would love to do speciality modelling for hair and makeup products.
He is very interested in all types of sport, from football, tennis and cycling and he loves to keep
fit and healthy by cooking nice meals and working out at the gym regularly.
'Being interested in different types of people and cultures, I've travelled some parts of the world and lived in Perth, Australia at points throughout my life. I'm an extremely friendly person and enjoy socializing and hanging out with my mates.'
See all the new portfolios as they are launched at http://www.lamodelondon.com