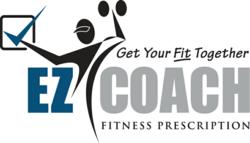 Too many times people buy into a system or product that focuses on one or two of these vital components. That's why most fail at attaining long lasting health, they are missing pieces of the puzzle
Manchester, Mew Hampshire (PRWEB) July 07, 2012
Integrity Health announces the re-launching of their EZ Coach website. The site contains a whole new graphical look with easier navigation. The site's purpose is to educate the public and those who enroll in the program at licensed fitness centers on the various components of comprehensive health and fitness.
The site contains valuable information that directs those who enroll into the program on exercise and nutrition and its role in achieving a healthy body. The concept of the EZ Coach program is its 7 components to perfect health. These 7-components are strength, cardiovascular endurance, flexibility, body composition, meal planning, supplementation and the mind/body connection.
It is through attaining a level of competency in all these areas that one will truly find optimal health. Rocco Boulay, exercise physiologist and founder of the EZ Coach system states; "It is essential that people know all these components to achieve optimal health. Too many times people buy into a system or product that focuses on one or two of these vital components. That's why most fail at attaining long lasting health, they are missing pieces of the puzzle."
The EZ Coach system is not a exercise or food tracker, it is an exact "prescription" for those who want to get and maintain a healthy body. It takes a persons' current fitness capacity and creates a prescription for exercise and nutrition to facilitate each person's needs and goals. Once the person receives their "prescription" they can log into the website and be directed on all the necessary knowledge to move their health and fitness in the right direction.
The site also provides direction on many exercises via video to help the exerciser understand the correct techniques for each exercise in their program. There are calorie correct meal plans, recipes and shopping lists to make it easy to follow. EZ Coach now has licensed health club locations in Florida, New Jersey, North and South Carolina, New Hampshire and internationally in Kobe, Japan.
If you are interested in signing up for your very own EZ Coach program you may click on the "Locations" tab on the website or contact us via telephone for a location in your area.
For more information contact EZ Coach Fitness Prescription Systems at 205-435-8874.
Fitness Center operators interested in becoming an EZ Coach licensee may contact:
GROW Development Group
617-775-7775
Boston, Massachusetts