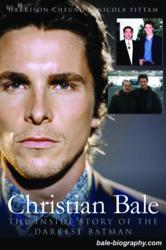 "A new picture of Christian Bale emerges." Huffington Post
Los Angeles, Calif. (PRWEB) July 09, 2012
With this summer's release of The Dark Knight Rises on July 20, the final Batman movie starring Christian Bale as Batman, many are intrigued as to how the notably private star with an equally infamous temper will act back in the spotlight.
Imagine if Alfred wrote a biography of Bruce Wayne! In the first ever biography of the Academy Award-winning star, Christian Bale: The Inside Story of the Darkest Batman (BenBella Books, ISBN: 978-1-936661-64-0), author Harrison Cheung, Bale's former publicist and assistant, and veteran entertainment reporter Nicola Pittam provide an inside look at the actor's rocky life, from former child actor to Internet sensation to Batman, offering insight into Bale's career successes and personal meltdowns.
Cheung, who lived and worked with Bale and his father for almost 10 years, shares firsthand accounts of the Bales' familial dysfunction, especially with his father David, his morbid fascinations and dark humor, and his extreme dedication to his craft in films like American Psycho and The Machinist.
The book features such telling anecdotes as:
· Bale wasn't initially interested in taking on the all-American role of Batman and completely dismissed the part - until Cheung bought him the original Batman graphic novels by Alan Moore and Frank Miller, which helped convince him to take on the role that would catapult him to the A-list and super-stardom
· Bale turned down the role of James Bond, telling producer Barbara Broccoli he had already played a serial killer in the part of American Psycho's Patrick Bateman
· Leonardo DiCaprio is Bale's biggest rival to this day – especially after he lost out on such roles as Titanic, What's Eating Gilbert Grape, and Romeo & Juliet to DiCaprio
· Bale hated dealing with fans – he once made a fan cry when she approached his table for an autograph while he was having dinner and another time he threatened to 'thrust a screwdriver through the eyeball into the brain' of another fan who had tracked down his home address
Both Harrison and Nicola are attending this year's Comic Con International in San Diego on Friday July 13 to promote the book and will be at Smart Pop Book's booth (#4300) for a special signing at 11am and will also be greeting fans for an autograph signing later in the day at 3pm.
They will also be available for press interviews throughout the day – so please feel free to contact us for a review copy of the book or to arrange an interview.
Harrison will be in Los Angeles from Saturday July 14 to Friday July 20, available for interviews. He will also be doing a signing at 11am on July 20 at the Barnes & Noble bookstore in Manhattan Beach. Christian Bale's biography is available in bookstores or online as a book, Nook or Kindle formats.
========================================================
Press kit:
bale-biography.com/press/christian-bale-presskit.pdf
Book Cover Hi-Res JPG (2MB)
bale-biography.com/press/ChristianBale_FrontCover.jpg
Author b/w photos Hi-Res JPG
bale-biography.com/press/Press-Cheung-as-Alfred.jpg
bale-biography.com/press/HarrisonBWportrait.jpg
Five Things You May Not Know About Christian Bale (vlog)
http://youtu.be/gLJqf4EN3oY
========================================================
Learn more:
http://www.bale-biography.com (Book site)
christianbalebook.wordpress.com (Author's blog)
youtube.com/user/ChristianBaleBook (Telly Award-winning book trailer!)
twitter.com/BaleBook
http://www.facebook.com/ChristianBaleBook (exclusive pix!)
========================================================
Press contact / Review copies
Jennifer Canzoneri, BenBella Books
jennifer(at)benbellabooks(dot)com
P: 214-750-3600 (ext 104)
========================================================