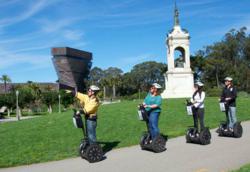 "The tour has been incredibly popular with locals and visitors to the city. A big part of the tour's success is exploring hidden areas while learning fun facts about the sites along the route." Brian Huber, San Francisco Electric Tour Company founder.
San Francisco CA (PRWEB) July 09, 2012
Now in its second season the Golden Gate Park Segway tour has added more tour times to accommodate the demand for touring this incredible destination. Extra Segways and guides are now available to handle more private group and team building events too!
A 5 star review from a recent guest sums up the tour experience. "This was the perfect way to see Golden Gate Park! We got to see parts we may not have seen otherwise because we covered so much ground. Our guide was amazing and amusing! He gave us a lot of history of the park and interjected great humor along with it. Highly recommended"
As the exclusive provider of Segway tours in Golden Gate Park, the company offers a fully narrated, eight-mile tour route that explores the eastern section of the 1100+ acre park on winding trails and bike routes. The quiet, eco-friendly vehicles are not only easy to operate but also bring riders closer to the beauty of the park.
"We are very pleased with the great reviews from our guests. To accommodate the increased demand we have added more guides and i2 lean steer Segways at the park location." explained Brian Huber, San Francisco Electric Tour Company founder. "The tour has been incredibly popular with locals and visitors to the city. A big part of the tour's success is exploring hidden areas while learning fun facts about the sites along the route."
This guest review sums up the tour. "This is an awesome experience if you are visiting or if you live here. I have lived in the Bay Area for 20 years and I learned things about GG Park that I never knew before. The Golden Gate Park Segway tour rocks and of course rolls! "
The park, built on sand dunes back in the last half of the 1800s, is larger than New York's Central Park and covered with more than 75,000 trees. Segways navigate the rectangular area, which is relatively flat compared to the hills for which San Francisco is known
The fully guided and narrated tour highlights:

The Music Concourse and Temple of Music
The California Academy of Sciences
The de Young Museum
The Japanese Tea Garden and the California Midwinter International Exposition of 1894
William Hammond Hill and John McLaren's vision for the park
The Conservatory of Flowers
Hidden sights including the Lily Pond, Storybook Cross and Fern Grotto
The historic Carousel and Sharon Art Studios
San Francisco Botanical Gardens
The Lawn Bowling Courts
The National Aids Memorial
Shakespeare Garden
Stow Lake and Strawberry Hill
The Rose, Rhododendron and Dahlia gardens
An amazing Redwood grove, Pioneer log cabin and many other hidden gems.
Tours are $70 per person, and reservations are strongly encouraged, as tickets sell out quickly. Tours are limited in size and ages 12 and up over 100 lbs (45 kilos) are welcome.
Golden Gate Park Segway Tours now depart April through October daily 9:00 am, 10:00 am 12:30 pm, 2:00pm and 4:00 pm.
November through March 10:00 am and 1:30 pm daily with additional times added on Weekends. All tours start on time, so please arrive 15 minutes early. Allow extra arrival time on weekends. Tour will be closed on Christmas & New Year day. We will also be closed during major public events in the Park.
The tour is also available for private groups, parties and for corporate team building events. Segway rider training sessions are required prior to each tour and take about 30-40 minutes. Tours are two-and-a-half hours including the training time.
Another guest commented" A fantastic way to see Golden Gate Park at a leisurely pace combined with the fun of a Segway. The tour guides were fun and informative, and made the trip engaging for all on the tour. Definitely recommend!"
In a review a San Francisco resident remarked "We saw parts of Golden Gate Park we had never seen. Guide had a ton of very entertaining and historical information about the park. It was an absolute blast."
About Segways
Segways are zero-emissions vehicles that operate on electricity, so they're easy on the environment as well as the wallet. The Segway i2 can travel as far as 24 miles on a single battery charge, making it an ideal replacement for mid-distance sightseeing tours. The Segway intuitively moves where the rider's body tells it to go. For safety as well as comfort, every Segway is equipped with handlebar bags, comfort mats and Vox tour narration radios. Helmets are supplied and required. Complimentary jackets and gloves are available for guest use on those chilly days in the Park.
Segway, the electric transport mechanism that is guided by the rider's natural motions for forward and backward maneuvering, was first introduced in 2003. It easily navigates most areas, including paved surfaces, dirt roads, grass, and those famous San Francisco hills.
About San Francisco Electric Tour Company
San Francisco Electric Tour Company opened in October 2004 and is based in San Francisco's Fisherman's Wharf. The company is part of a family-owned business whose owners have operated numerous successful San Francisco tour and travel businesses for more than 20 years.
All tour information is available at http://www.electrictourcompany.com
Press images are available at http://www.electrictourcompany.com/segway/media.html