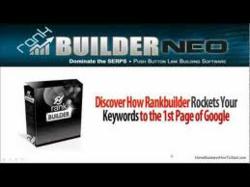 RankBuilder NEO implements a secret weapon that leaves our competition in the dust
(PRWEB) July 07, 2012
States developer and owner Alex Goad, "RankBuilder NEO implements a secret weapon that leaves our competition in the dust". Specifically, he is emphasizing three particular qualities of the backlinks which his software targets - variety, volume, and authority site links.
Goad survived the "page ranking apocalypse" brought about by the abrupt and proscriptive rules of engagement initiated by Google, as they shook the earth beneath the feet of anyone with a pulse in the Search Engine Optimization realm. But more than just "surviving", Alex Goad studied and learned the new Google page ranking metrics, and used these as the basis for reinventing SEO Automation for the post-shakedown era. The end result was the creation of his easy-to-use software, RankBuilder NEO. NEO focuses on backlink quality (and quantity) in the manner most meaningful to pacifying the all-seeing Google eye (think Lord of the Rings), purported to thusly harness untold numbers of backlinks expedient within the Google ranking algorithm.
In short, greater effectiveness, more useable backlinks, higher quality traffic to the user's website are Alex Goad's guarantee to his RankBuilder NEO software, now available on a trial basis.
Click Here to go directly to the RankBuilder NEO website
Click Here to read the review by Reliable Online Product Reviews