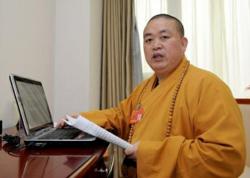 San Francisco, CA (PRWEB) July 07, 2012
Richard Victor Mahee launches Shaolin Word. Shaolin Word is a network of websites and social network platforms that are used to distribute messages from the Abbot daily. Last November ABC Nightline followed and filmed colleagues, partners and clients of Richard Victor Mahee to the Shaolin Temple for three weeks. Richard receives an email from Kwok Leong Pang every seventy two hours. Each email has three days of messages from the Abbot for the Shaolin Word. "I asked for the ability to distribute the word as a way to open up dialogue between English and Chinese followers worldwide," says Richard Victor Mahee
In Buddhism, rules are "our Master and must be obeyed. Similarly in mathematics, without definitions, there will be no forms. Same logic. If we often find we put ourselves first (the ego), we are definitely heading on the road to destruction. This means we have not learn properly and must put in extra effort. The state of your mind is reflected on your face. A loving heart is expressed with a kind and smiling face. A terrible and frightening face is expressed by an evil heart. Naturally, a Buddha's face is ever smiling because the heart is kind and loving," says Abbot
Bodhidharma, an Indian monk was the 28th Partriarch of Buddhism that traced its lineage to Buddha himself. He took with him Zen Buddhism to China 1,500 years ago. The 28th Partriarch found his way to Shaolin Temple and meditated in a cave on a hill which still exist today behind the temple ground for 9 years. It was believed during the 9 years of self imposed confinement that he developed the Shaolin Kungfu, sets of demanding exercises to help the body in coping with the rigors of prolonged meditation. After the 9 years (593 AD), the first Partriach of the Shaolin Temple taught Zen Buddhism and Kungfu to the monks. After him, there followed 5 other Chinese Partriarchs whose teachings became the canon for Zen Buddhism. This form of Zen Buddhism became Chinese Buddhism. Bodhidharma became venerated by most Chinese Buddhist temple.
Over the years, the Shaolin order developed Kungfu into a highly disciplined fighting skills although that is not the purpose. During the training, injuries occurred and the monks developed the Zen herbal medicine that has become famous for its effectiveness in the remedy. Shaolin Temple, more famous for its warrior monks had a long history of charity, benevolence and patriotism. It embodies the essence of the Chinese spirit.
Shaolin Temple today has given the world with her rich culture of holistic living, understanding of the mind, Zen arts, medicine, Kungfu, herbal medicine, education and entertainment. These activities can help counter the excesses of decadent materialism and selfishness that exist in the global community of followers.
Richard Victor Mahee is part of a planning committee for a charitable project between major corporations and the Shaolin Foundation. The initiative is to extend the word to followers worldwide and increase awareness about the lifestyle to English speaking countries.
(Mahvrick Networks) (Shaolin Word) (Social Network Press)
###