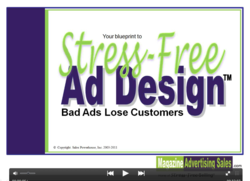 By creating good ads for customers, the odds are in favor or more long-lasting relationships and less cancelations...This reinforces legitimacy to customers an increases longevity.
Austin, TX (PRWEB) July 13, 2012
How to: Stress-Free Ad Design
Many people believe that when ads don't work that the publisher is to blame; this, however, is false. It is not the magazine that is the problem; it's the ad itself. If there's a problem keeping customers, it means there's a need for a better ad sales rep. It's important to give good copy to the art department to create effective advertising for a company. There needs to be harmony between the salesperson and the art designer on what they ad should be about.
Why Bother?
Garbage in, garbage out. If the ads that are coming in are not what's needed, it very well may be because the artist is getting a lack of explanation from the sales rep. By creating good ads for customers, the odds are in favor of more long-lasting relationships and less cancellations. In turn, this reinforces legitimacy to customers and increases longevity. Having an effective ad can increase the number of advertisers, increase revenue and enhance one's image. It is important to create appropriate ads that will effectively reach the audience.
What To Do First
It's important to go in with a set of questions for the advertiser:

What is the goal?
Ask them what their major strengths are?
What do customers say about the company?
Why did they choose this company?
What is the typical customer?
If one thing could be said about the business, what would it be?
Asking these questions and letting them talk will create an advantage. Knowing more about the typical customers and their demographics/psychographics will all help to determine the shape, color, theme, style and overall architecture of the ads. These answers will also be vital to see if this is the partnership they want and if they can be guided in the right direction.
Ad Creation Don'ts
Don't leave the readers curious. Let them know what it's all about.
Don't be cutesy unless dealing with teenagers.
Don't use any special gimmicks; they are not very effective.
Don't be misleading; show the appropriate images and proper content.
Don't be cliche, because cliches are not credible nor sincere.
Don't be negative in an ad; this only works when talking about a frightening situation.
AIDA
There needs to be a way to get people's attention through a headline. The headline's job is to stop the reader, and simply slapping a company name up there is not going to create interest. Three things that make people stop and read ads: Headlines, captions, photos. Five times more people read headlines than body copy. If nothing is done but writing a good headline, there is going to be more of an impact and more results from the ads. Note: It is not the artist's job to do this; they are not copywriters. It is the salesperson's job to get this across.
Interest and Desire
This is where body copy comes in handy. It informs or educates the reader, helps persuade and remind people what they need to know and builds confidence. People will read an ad the way they will read a book, preferably without bullet points, if it interests them. It's important to make sure to write about things the reader cares about, such as prestige, enjoyment, leisure, comfort, popularity, sex (especially for college students), security, and saving or making money. After identifying what it is the reader is looking for, the attention comes naturally. When writing body copy, write it as if only one person will ever see it. It's crucial to remember to read body copy at least three times. Clarity is credibility.
Action
End with a good reason to act now.
Lastly
After determining what works, one should make sure to repeat the style of that ad. Always sell what sells best.
Click Here to Watch the Entire Webinar on Stress-Free Ad Design
Shweiki Media's mission has always been to help publishers improve by providing the most profitable, hassle-free printing experience possible. This includes guaranteeing the highest quality product, exceptional customer service and on-time delivery.
As a printer and publisher, Shweiki Media also believes that this hassle-free experience includes making their clients better. Utilizing relationships with industry experts, Shweiki Media strives to educate clients and help them thrive in the exciting world of publishing--while having lots of fun along the way! (shweiki.com)