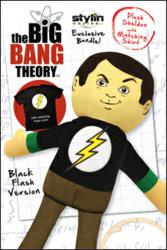 With the show continuing to be a fan favorite, we're expecting to sell out of the 5,000 Sheldon and 1,000 Leonard units we have by the last day of Comic-Con." - James Stylin, CEO
San Diego, CA (PRWEB) July 09, 2012
Stylin Online, the Internets largest retailer of pop culture apparel, announced to Facebook fans Saturday they will preview the much anticipated "Sheldon" and "Leonard" plush toys from CBS' ratings-buster, The Big Bang Theory, at Comic-Con International: San Diego 2012 (SDCC). Bundled with matching t-shirts in sizes small to 3X, devoted fans can mirror the trending styles of their favorite television characters.
The officially-licensed "action figures" arrive in a collector box stylishly dressed in character, wearing t-shirts familiar with their most-notable appearances on the show, and will be unique from versions available late this year in standard retailers. "Our Sheldon Cooper plush has a black t-shirt with a Flash logo, other retailers will have red t-shirts," explains James Stylin, CEO of Stylin Enterprises. "Some people won't care, but a lot of hardcore fans know the difference. The Leonard Hofstadter plush wears a green "recycle logo" t-shirt. Fans are also going to want the matching t-shirts in their sizes – and they're gonna go fast."
Stylin Online confirmed the SDCC is the first convention that will provide access to plush toys and matching t-shirts box sets. James Stylin continues, "Big Bang has created a big fan base, and they are crazy for the show's merchandise – we've already seen it with our regular t-shirt sales (http://www.stylinonline.com/big-bang-theory.html). With the show continuing to be a fan favorite, we're expecting to sell out of the 5,000 Sheldon and 1,000 Leonard units we have by the last day of Comic-Con."
Although not available in retail stores as this time, TBBT fans can purchase the plush + t-shirt combo during the convention at the "Tower of T-Shirts" (booths 215, 5545, and 5029), while supplies last. Comic-Con opens to the media, industry professionals and VIP ticket holders Wednesday, July 11, then to the public Thursday thru Sunday. Fans not in attendance can pre-order online beginning today at http://www.stylinonline.com/big-bang-theory-plush.html.
About Stylin Online
Based in Memphis, Michigan, Stylin Online is the Internets largest retailer of pop culture apparel and accessories, including comics, TV, movies, sci-fi, horror, anime, cartoons, Disney, video games and music.
For a virtual tour of the warehouse with CEO James Stylin in Memphis, Michigan visit http://www.stylinonline.com/info.html. For more information about the online store visit http://www.stylinonline.com. Meet Stylin Online fans on Facebook at https://www.facebook.com/pages/Stylin-Online/103484575747.