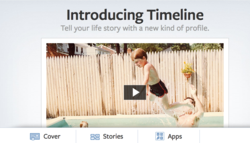 Austin, TX (PRWEB) July 12, 2012
Facebook's latest and greatest change, the Facebook timeline, can be a company's best friend, enabling them to put their best social media foot forward--but that's only if it's done right. When done in the best way possible, it's a great way for a business to present the image they want online, spread their message and interact with fans and potential customers--all without leaving the office. Study Breaks breaks down the process and offers businesses a simple step-by-step guide for creating the best version of a custom timeline possible.
1) Create Page
2) Choose A Category: Select Brand, Local Business, etc.
3) Name the Page: There's only one chance to this, so it's critical to make sure it's correct and abides terms.
4) Add a Picture: It's possible to add an image up to 180W X 180L pixels, so get creative. TIP: save photos for SEO.
EXAMPLE: studybreaks.jpg
5) Adjust the Thumbnail Picture: Make sure the thumbnail picture is perfect.

Hover Over Profile Picture
Click Drop down arrow where it says "Edit Profile Picture"
Click "Edit Thumbnail"
"Drag to Adjust" OR "Scale 2 Fit"
6) Set the Cover Photo: This is the branded billboard basically, and it allows for 851W x 315L pixels. One should NOT include any selling points such as: Pricing, Discounts, or LIKE us.
7) Claim a Custom/Vanity URL: There must be 25 LIKE's to do this and there's only one shot at creating it; it cannot be changed ever!
8 ) Info Tab: Is the relevant Company/Brand Info found and displayed? Phone number and email visible? Website, Blog, Twitter, etc. displayed?
9) Update Milestones: Events such as: Store openings, special occasions or important news should be highlighted as "Milestones."
10) Other Social Channels: Consider integrating content from Twitter and YouTube.
11) Tabs Not Being Used: Only feature tabs that are currently being used or it looks cluttered.
12) Ensure Custom Tabs are Installed and Arranged Accordingly: Yelp, YouTube, Twitter, etc.
13) "Share": Friends can share a page with friends by clicking the "Share" link on the bottom left side of the page.
14) Like to be Like'd: Like other local or potential clients and partner pages.
15) Facebook to Twitter via the Facebook Help Site: Can one manage posting on Facebook and Twitter? Is it preferable to post to Facebook and have the posts directed to twitter as well?
16)Facebook for websites: Allow visitors of a business's website to interact the business with on Facebook by integrating social plugins on the site.
17) Create and manage events: Facebook's events app allows users to create events, invite fans and allow them to share the events with their friends, and check in with Facebook Places.
18) LiveStream's Facebook app makes it possible to host live videos, which can be used to host panel discussions and take questions from a Facebook audience in real time.
19) Measure and Revise efforts: One can use Facebook's amazing colorful Insights and Metrics to see what has and has not been having a impact on the current audience
20) Turn Emails into LIKE's "Clickly": Facebook allows users to upload email contacts in a csv or various other types of files to allow email contacts to possibly join the business on Facebook.
Go to profile page
"Edit Page"
Click "Resources" on the left
Click "Tell Your Fans"
Select how to complete the process
21) Featured LIKE's: Consider supporting businesses and brands by featuring them on the LIKE's section
22) Convert Profile to Fan Page
Study Breaks College Media provides a one-stop solution for small businesses, providing them with big marketing strategies and delivering college students.
Study Breaks magazine is an award-winning line of monthly entertainment magazines for college students with a mission can best be explained through its slogan: We are college life. Published by Shweiki Media Printing Company, it is distributed in five Texas cities (Austin, Houston, San Antonio, San Marcos and Lubbock) and three southeast cities (Athens, GA; Auburn, AL; Columbia, SC). (Studybreaks.com)