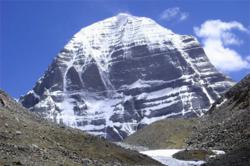 Lhasa, Tibet (PRWEB) July 08, 2012
Songtsan Travel is now one of only two Tibetan travel agencies licensed to take Indian tour groups on the Mt. Kailash pilgrimage. Starting in Kathmandu, Nepal, the 16-day Kailash journey takes pilgrims to the base of the mountain, provides a guide and yak team for the 3-day kora, and includes visits to many other interesting cultural and religious holy sites, including Lake Manasarovar.
Interested agencies in India and Nepal are encouraged to work with us to arrange tours. The process is as follows:

Contact Songtsan Travel for itinerary and cost estimate
Book tour by sending a deposit
Send passport photocopies for all travelers
Songtsan travel applies for invitation letter and sends it back to agency in Nepal or India
Agency takes invitation letter to nearest Chinese embassy to apply for a group visa
Songtsan Travel applies for all special permits for foreigners
Group pays upon arrival
Songtsan Travel's partner in Nepal will provide gear, and Songtsan travel will provide all guides, travel staff, and will make all the trip bookings. The itinerary will outline what is and is not included in the cost of the trip.
Songtsan Travel is a Lhasa-based tour operator with more than 20 years of experience leading Tibet tours. The agency uses part of its proceeds to provide education to disadvantaged children. Songtsan Travel seeks to promote Tibetan culture and help Tibetans improve their livelihood.