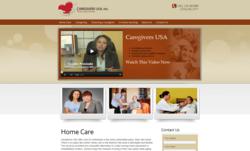 (PRWEB) July 09, 2012
Unique Web Consulting, along with the general manager at Caregivers USA, a home care provider in Santa Monica, California, today announced an update to the corporate website which helps people understand the advantages of in-home care and tips for choosing a caregiver. The new website was done with the help of Unique Web Consulting, a Los Angeles internet marketing firm. Caregivers USA offers professional care for individuals in the most comfortable place, their own home.
Many seniors who need a caregiver because they are disabled, infirmed or frail would rather live in their own homes than in a hospital where they don't have any family members or friends nearby. Caregivers USA provides seniors a number of healthcare solutions which can range from personal care to technical nursing with highly trained and qualified caregivers. The company offers in-home nursing care which can last for a few hours or twenty-four hours a day, seven days a week.
Home healthcare services are provided only by trained health aides and skilled nurses. Registered nurses are authorized to administer medications and if needed, maintain a disease management program prescribed by a doctor. Health aides are specially trained to help seniors with all their daily activities such as bathing, eating, and walking. In addition, they may also provide assistance with monitoring bladder catheters, colostomy, or administering oxygen on a regular schedule.
With in-home caregiving and nursing services provided by Caregivers USA, seniors and their families can both enjoy many benefits. One such benefit is that the senior receives quality health care that is a much more affordable and cheaper option than a nursing home. Seniors also enjoy more freedom and they're able to maintain their privacy.
Caregivers USA serves Beverly Hills, Santa Monica, Brentwood, Pacific Palisades, Culver City and Marina Del Rey. Seniors and their family members are encouraged to visit the company's website to learn about their services and to speak to an account representative who can answer any questions and provide advice on a wide-range of home healthcare topics.
About
Caregivers USA is a family owned agency, managed by Alicia Aguirre and Claudia Preciado, mother and daughter. Our goal and mission is to create a secure, loving, caring, and trusting relationship for your loved ones. We have been providing supportive care for over 22 years. Our passion and love for what we do has made us experts in this field.
Contact
Caregivers USA, Inc.
3304 Pico Blvd., Suite I
Santa Monica, CA 90405
Phone: (310) 256-2771
Web: http://caregiving-losangeles.com/