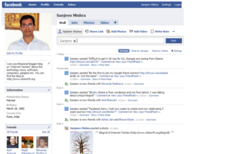 New York, NY (PRWEB) July 08, 2012
Facebook, with its millions of users across the globe, has provided a free avenue to communicate and connect. People with the same interests and advocacies can create Facebook group where they can discuss, share and plan. These groups can be private or public. An effective way to search and reach out Facebook users of the same likes and concerns is through Statusreel. It is a Facebook widget that makes status search fast and easy. It has been proven that statuses tell a lot about a person. In a sense, statuses can reveal personality types.
Statusreel has a simple interface that makes it easy to use. To start using it, the user only has to provide Facebook log in information—no need for additional registration. By typing the chosen topic, Statusreel will show users who had used the topic or word in their status. Adding up these users and befriending them can be done in just seconds. The opportunity to connect and create a group for a worthy purpose can be accomplished with less hassle. Status search is a reliable way to locate people of the same beliefs and interests.
Statusreel is free of any charge. This Facebook app can be embedded on a blog or website through copying the HTML code provided by Statusreel. Aside from Facebook search, Statusreel can be a good source of statuses to be posted on your own wall. There are popular status categories such as Funny facebook status and romantic Facebook status.
About Statusreel
Statusreel.com is a product designed to give end-users an instant amount of Facebook statuses in real-time. Users can search via keyword or by subject matter to see what chatter is taking place publicly on Facebook and the web. Statusreel also allows websites and blogs to embed a Facebook status widget directly into their site. Statusreel is a web-based Facebook tool that is 100% free.