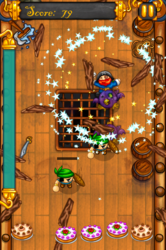 Pirate Smash is easy fun to be had initially - but it goes batshit hard on you very quickly!
(PRWEB) July 10, 2012
After having grabbed the top #7 and #5 spots in Apple's US "Top Free Apps" App Store ranking in 2011 with their games "iDestroy" and "Pocket Bugs", Stark Apps released their latest action-arcade game "Pirate Smash" on June 29th, 2012.
The finger-punching skills of iOS gamers worldwide are all that stands between the hungry pirates of Omnom bay and the most delicious banquet of cakes!
Players will punch pirates in the face and charge their Frenzy Meter, then smack the sneaky buccaneers around with special attacks.
"Pirate Smash is easy fun to be had initially but it goes batshit hard on you very quickly", say the developers.
What's notable about the game is that while it contains in-app purchases to help impatient players get ahead quicker, every in-game item and powerup can be earned by playing the game and getting better at it.
Trailer Video: http://youtu.be/9kkemodfMG4
App Store link (free): http://itunes.apple.com/app/id519627117
Screenshots: http://www.facebook.com/PirateSmash/photos
Press Kit: http://www.starkapps.net/presskits/piratesmash-presskit.zip
What's special about Pirate Smash:
✪ Beating up pirates is great fun!
✪ Very simple controls...
✪ … but extremely challenging gameplay!
✪ Players challenge their facebook friends to beat their highscores
✪ Lots of funny characters
✪ Unlockable "Blood Mode"
✪ Players earn in-game currency by unlocking Game Center achievements
Stark Apps is committed to continuing development of the game. A first update is already in the works and will provide zealous pirate-smashers with new weapons and gimmicks to defend their cakes!
Pirate Smash is available on Apple's App Store and is a free download.
About Stark Apps
Founded in 2010, Austrian independent game development studio Stark Apps develops mobile games for iOS and Android.
Past releases include the "iDestroy" series for iOS and Android, and "Pocket Bugs" for iOS.
Stark Apps was founded by two graduates of the University of Applied Sciences Hagenberg in Upper Austria.
Contact Info
press(at)starkapps(dot)net