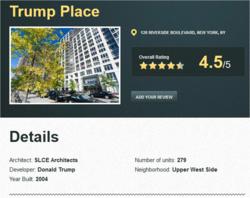 Through CondoGala, users have the opportunity to go beyond photographs and hard data, to see what actual residents think of the building they live in.
Boston, MA (PRWEB) July 11, 2012
New luxury real estate website CondoGala brings potential buyers upscale condos all over the world, but with real ratings and reviews from residents and real estate professionals. The portal offers information on modern high-end condominiums in the most desirable cities, from New York and Chicago, to Miami and San Francisco. But the difference between CondoGala and other property sites is that it also tells buyers how condos measure up against each other through user ratings.
Most people will have used a review site when booking a hotel or hostel, but how about when buying a home? While you can usually read up on neighborhoods and amenities before investing, its hard to tell what its actually like to live in a building until you do - this is where CondoGala comes in.
Launched by inMotion Real Estate Media, the website aims to help potential buyers and investors make informed property investment choices with the help of anonymous user reviews from people who know what they're talking about. Users may score buildings on amenities, location,staff and management, and overall, as well as provide a review of their experience.
The website answers a current trend that sees consumers relying more and more heavily on reviews. A recent Local Consumer Review Survey found that in fact 72% of consumers trust online reviews as much as personal recommendations. With an investment in luxury property, the stakes are particularly high, and buyers need as much impartial information as possible.
"The condos on our site our aimed at a wide demographic, from young professionals to families," says CondoGala Founder, Bob Samii, "but what unites our audience is their discerning taste. Potential buyers who are seeking the most stylish interiors, convenient amenities, and in the best locations."
"Through CondoGala, users have the opportunity to go beyond photographs and hard data, to see what actual residents think of the building they live in. User reviews enhance the experience of potential buyers so that they can make smarter purchasing decisions."
You may visit the site at condogala.com