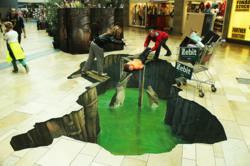 Stunning 3D chalk drawing of the 'Zebit Crocs' stops Bristol shoppers in their tracks
(PRWEB UK) 9 July 2012
The floor of the Galleries shopping centre in Bristol appeared to dramatically break apart on Saturday, revealing a congregation of savage crocodiles snapping at shopper's heels.
The striking image of the crocodile-ridden pool that appeared in the centre of the Galleries, complete with broken bridge for passers-by to walk across, is the work of renowned British graffiti artists Dave and Nick, and appeared in The Galleries on Saturday to promote Zebit, a new way to finance products online and offline designed for bargain-hunting shoppers who want to make their shopping 'snappier'.
The 3D image caused a few shoppers to stop in their tracks as they went about their Saturday shopping, with some stopping to admire the drawing, but most being keen to 'jump in' and have their pictures taken on the drawing - attempting to wield a shopping trolley brimming over with luxury goods over the rickety bridge. A selection of photographs of Bristol shoppers snapped with the crocs can be seen on Zebit's Facebook page at http://www.facebook.com/zebituk.
Zebit is designed to help grab 'here today, gone tomorrow' bargains often spotted in sales and on auction sites. Unlike conventional credit cards, it gives control to the customer with flexible payment terms. Zebit customers can borrow for a day, a week, or any length of time up to 7 months, and set the repayment schedule with weekly or monthly payments.
To use Zebit, shoppers sign up at http://www.zebit.com, where they can get either a Virtual Prepaid MasterCard® that can be used immediately online or a physical card that can be used both online and in shops. The application process is simple:
1. Tell Zebit what they want to buy and how much it costs.
2. Decide how much they want to borrow and how and when they want to repay.
3. The funds appear on the Zebit card instantly after approval they can buy immediately.
Renowned graffiti and 3D artists Dave and Nick have travelled the world creating incredible street art that tricks the mind into believing the works of art are three dimensional. The 3D street art is drawn and painted from one perspective, which creates depth and height when viewed from the same view.
3D pavement art has been around since French painters in the 16th century created 'trompe l'oeil' (trick of the eye) artwork to create the illusion of space and the outdoors on the walls, floors and ceilings of villas owned by the wealthy. Since then the art style has been used to entertain people and replicated across the world.
Dave and Nick have been painting 3d street art for over five years now. Originally Dave was an art student and Nick was an art teacher, they took their skill in fine art and began to experiment with 3d effects.
See more pictures of the crocodiles in The Galleries, Bristol at http://www.facebook.com/zebituk and find out more about Zebit at http://www.zebit.com.

For more information please contact:
Bill Hunt
Bill Hunt Public Relations
Tel: 01785 859576
Email: bill(at)billhunt(dot)co(dot)uk
About Zebit
Zebit is a trading name of Lending Stream LLC, which operates under a consumer credit licence from the Office of Fair Trading.
About Lending Stream LLC
Lending Stream LLC is an online lender formed with a single mission: to make payday lending more straightforward and understandable for consumers. We offer emergency cash loans with the additional benefits of convenience, quick approval, world-class customer service and a genuine understanding of how important an emergency loan may be to you. No faxes. No stringent loan requirements. And no frustratingly long waiting times. Lending Stream LLC is registered with the Information Commissioner's Office (Data Protection No: Z2752028) and hold a Consumer Credit License (0643942). We are registered in the State of Delaware, USA (Registration No: 4124111).
About MasterCard
MasterCard, http://www.mastercard.com, is a global payments and technology company. It operates the world's fastest payments processing network, connecting consumers, financial institutions, merchants, governments and businesses in more than 210 countries and territories. MasterCard's products and solutions make everyday commerce activities – such as shopping, traveling, running a business and managing finances – easier, more secure and more efficient for everyone. Follow us on Twitter @mastercardnews, join the conversation on The Heart of Commerce Blog and subscribe for the latest news.