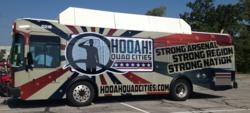 As a manufacturing and logistics center of excellence, the Rock Island Arsenal is a centerpiece of the Quad Cities economy and a significant contributor to our national security," said Tara Barney, Quad Cities Chamber of Commerce CEO
Quad Cities, IL and IA (PRWEB) July 09, 2012
What began as a small military arsenal on the frontier that held and distributed supplies has grown to become a great manufacturing arsenal. From making meat cans and horse tack at its inception to producing recoil mechanisms and advanced armor solutions today, the Rock Island Arsenal has played a major role in the supplying of American troops.
Located on the largest island in the upper Mississippi River, the Rock Island Arsenal is celebrating its 150th anniversary this year. The arsenal is part of the greater Quad Cities region along the borders of Illinois and Iowa, 2.5 hours west of Chicago.
On July 11, 1862, President Abraham Lincoln signed into law legislation that established the Rock Island Arsenal. Today, the arsenal is a military installation that employs 8,000 and is home to the U.S. Army's only active foundry and the only titanium casting facility in the Department of Defense. In addition, there are more than 70 tenants on the arsenal that are primarily involved in national logistics.
The Quad Cities community has launched a military appreciation and community goodwill campaign called Hooah! Quad Cities in support of the Rock Island Arsenal, the military and their families, and veterans.
"As a manufacturing and logistics center of excellence, the Rock Island Arsenal is a centerpiece of the Quad Cities economy and a significant contributor to our national security," said Tara Barney, Quad Cities Chamber of Commerce CEO. "The Quad Cities is committed to serving those who serve our nation," she added.