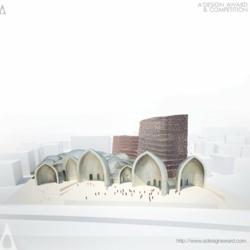 Como, Italy (PRWEB) July 09, 2012
A' Award and Competitions are proud to announce that the design Haj House Complex by Agi Architects has been honored with the prestigious Platinum A' Design Award at Architecture, Building and Structure Design Competition marked as a winner by the respected judges of the A' Design Awards & Competitions amidst a great number of submissions.
Winner Design: Haj House Complex
Agi Architects, the designer of the winning work Haj House Complex says "Light, shadows, shelter, pilgrims, garden, paradise… the concept of the Haj House Complex in Lucknow is hereby, through this proposal, addressed as a cord connectively fastening the stems of some of the main features in Islamic traditional architecture; by trying to be much more than just the sum of different functional requirements housed within "rational" buildings, we wanted to push stronger and farther, in order for those concepts to be tangible in the final scenario. " Learn more at: http://www.adesignaward.com/design.php?ID=23974
Project Members for Haj House Complex
Haj House Complex was realized by Dr. Nasser B. Abulhasan, Joaquin Perez-Goicoechea, Salvador Cejudo Ramos, Stefania Rendinelli, Gwenola Kergall, Lucia Sanchez Salmón, Carmen Sagredo, Bruno Martins Alfonso Gomes, and Daniel Muñoz Medranda.
The Platinum A' Design Award
The Platinum A' Design Award is a prestigious award given to top 1% percentile designs that has delivered an exemplary level of perfection in design. The designs are judged by a panel of three different jury which is composed of Academic, Professional and Focus Group Members. The designs are evaluated with score normalization to remove any biases and are voted on aspects such as functionality, ergonomics, engineering, presentation, innovation, usability, fun details, technology, and any other specific points that could be considered, each of these points are further weighted for different jury groups.
About A' Design Award and Competitions
A'Design Award and Competitions, aims to highlight the excellent qualifications of best designs, design concepts and design oriented products. A' Design Award and Competitions are organized and awarded annually and internationally in multiple categories to reach a wide, design-oriented audience. Learn more at: http://www.whatisadesignaward.com