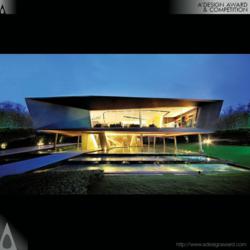 Como, Italy (PRWEB) July 10, 2012
A' Award and Competitions are proud to announce that the work The Float by Kris Lin has became winner of the famed Platinum A' Design Award in Architecture, Building and Structure Design Category elected as the winner by the respected referees of the A' Design Awards & Competitions amidst thousands of nominations.
More information on The Float
Kris Lin, the creative mind behind the awarded project The Float says "We designed all the architecture, interior and landscape in this project. The project was about designing a real estate agency called Sky Villa. The name of the project became our initial starting point for development. The project is located in Xiamen downtown, the conditions around the base were unfavorable, i.e. there are many old apartments and a construction site is present.. In the end, with the concept of floating; we have pulled the sales center to a height of 2Floors, and thus we created our own landscape, a ground level pool. Finally the sales center looked liked as if it were floating in the water, and the visitors could enjoy the feeling of ascension while visiting the agency.." Learn more: http://www.adesignaward.com/design.php?ID=24062
Creative Team for The Float
The Float was realized by Kris Lin - Lead Design Director, and Jiayu Yang - Design Director.
The Platinum A' Design Award
The Platinum A' Design Award is a prestigious award given to top 1% percentile designs that has delivered an exemplary level of perfection in design. The designs are judged by a panel of three different jury which is composed of Academic, Professional and Focus Group Members. The designs are evaluated with score normalization to remove any biases and are voted on aspects such as functionality, ergonomics, engineering, presentation, innovation, usability, fun details, technology, and any other specific points that could be considered, each of these points are further weighted for different jury groups.
About A' Design Award and Competitions
A'Design Award and Competitions, aims to highlight the excellent qualifications of best designs, design concepts and design oriented products. A' Design Award and Competitions are organized and awarded annually and internationally in multiple categories to reach a wide, design-oriented audience. To learn more visit: http://www.whatisadesignaward.com