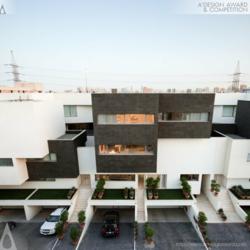 Como, Italy (PRWEB) July 09, 2012
A' Award and Competitions are proud to inform that the project Black and White House by Agi Architects has been announced as a winner of the famed Golden A' Design Award in Architecture, Building and Structure Design Category chosen as the winner by the transnational arbiters of the A' Design Awards & Competitions amidst a great number of works.
Insights on the Black and White House
Agi Architects, the creator of the winning project Black and White House explains "Located on a main highway in Kuwait, the houses differentiate themselves from their surroundings by their stark façade design. With two contrasting colors, the façade is designed to define the individual houses, while achieving unity amongst all six. White stucco material is used as the base for all the houses, while dark grey bands of stone turn corners, go indoors, and climb up and down, creating flow and continuity throughout the project. " Learn more about this design: http://www.adesignaward.com/design.php?ID=23931
Team Members for Black and White House
Black and White House was imagined by Dr. Nasser B. Abulhasan, Joaquin Perez-Goicoechea, , Germana DeDonno, Naseeba Shaji, Lucia Sanchez Salmon, Robert A. Varghese, Georg Thesing, Sharifah Alshalfan, Moyra Montoya Moyano, Bruno Alfonso Martins Gomes, and MI Il Lee,.
The Golden A' Design Award
The Golden A' Design Award is a prestigious award given to top 3% percentile designs that has carried out an exemplary level of perfection in design. The designs are judged by a panel of three different jury which is composed of Academic, Professional and Focus Group Members. The designs are evaluated with score normalization to remove any biases and are voted on aspects such as functionality, ergonomics, engineering, presentation, innovation, usability, fun details, technology, and any other specific points that could be considered, each of these points are further weighted for different jury groups.
About A' Design Award and Competitions
A'Design Award and Competitions, aims to highlight the excellent qualifications of best designs, design concepts and design oriented products. A' Design Award and Competitions are organized and awarded annually and internationally in multiple categories to reach a wide, design-oriented audience. Learn more at: http://www.whatisadesignaward.com