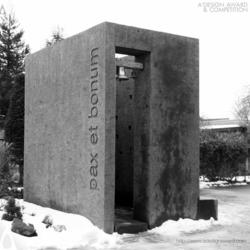 Como, Italy (PRWEB) July 09, 2012
A' Award and Competitions are proud to tell that the project Saint Francis Chapel by Rafael Hintersteiner has been awarded with the renowned Golden A' Design Award in Architecture, Building and Structure Design Category chosen as the winner by the respected awarding commission of the A' Design Awards & Competitions among thousands of projects.
About the Saint Francis Chapel
Rafael Hintersteiner, the designer of the winning project Saint Francis Chapel demonstrates "The Saint Francis Chapel does not meet the conventional principles of the design of a chapel. It is a small cubic room inviting to pause for a moment of remembrance. The relationship with nature associated with Saint Francis is not what the design of the chapel shall convey, but it is the simplicity and openness, the reduction to elementariness and the restraint of symbolism. A room of meditation was created: a room of possibilities which is open for everyone. The open ceiling shall guide the view beyond the everyday. Small candle niches link to the traditional mysticism in this sparse room. " To learn more visit: http://www.adesignaward.com/design.php?ID=24987
The Golden A' Design Award
The Golden A' Design Award is a prestigious award given to top 3% percentile designs that has exhibited an exemplary level of in design. The designs are judged by a panel of three different jury which is composed of Academic, Professional and Focus Group Members. The designs are evaluated with score normalization to remove any biases and are voted on aspects such as functionality, ergonomics, engineering, presentation, innovation, usability, fun details, technology, and any other specific points that could be considered, each of these points are further weighted for different jury groups.
About A' Design Award and Competitions
A'Design Award and Competitions, aims to highlight the excellent qualifications of best designs, design concepts and design oriented products. A' Design Award and Competitions are organized and awarded annually and internationally in multiple categories to reach a wide, design-oriented audience. To learn more visit: http://www.whatisadesignaward.com