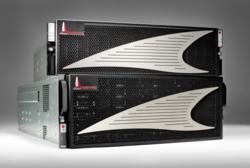 Boomfield, CO (PRWEB) July 09, 2012
Starboard Storage Systems, a leader in hybrid data storage for today's modern application workloads, today announced that it has appointed Craig Carpenter senior vice president of sales and customer support and has appointed Daryl Overholt as chief financial officer.
Craig Carpenter has more than 20 years experience building sales organizations and has extensive knowledge of the data storage industry. Most recently he held the position of area sales vice president at EMC responsible for several product lines. In this role he was instrumental in building a new channel-only sales organization for SMB customers across the United States. Prior to EMC, Craig held executive positions at Accenture, Entex Information Systems, Fiber Optic Technologies and at Digital Equipment Corporation.
"Craig's years of experience building and leading sales organizations for data storage solutions and his knowledge the storage industry make him the ideal choice to help Starboard Storage increase its footprint in the industry," said Victor Walker, chief executive officer at Starboard storage Systems. "His experience will help us to immediately accelerate our growth and build a strong channel sales organization for success."
Daryl Overholt has over 20 years of financial management experience with companies ranging from venture-backed start-ups to multinational corporations. Most recently Daryl held the position of chief financial officer at Aztek Networks which was successfully acquired in April 2012. Prior to Aztek Networks, Daryl held executive positions at Sequel Venture Partners and PricewaterhouseCoopers.
"We are fortunate to have Daryl join our team at this growth stage of our company," said Victor Walker, chief executive officer at Starboard Storage Systems. "Daryl's strong background in venture-backed start ups will provide Starboard with the financial leadership that is needed at this time in our history."
About Starboard Storage Systems
Starboard Storage tackles the toughest storage problem facing Small and Medium Enterprise (SME) IT administrators today — managing modern application workloads that include unstructured, virtualized and structured data. Starboard Hybrid Storage AC Series combines SSDs and HDDs with autonomic storage tiering and multi-protocol support to deliver industry leading performance for less compared to legacy unified storage solution.