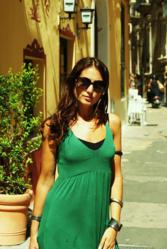 Innovative Service Promoting Local Businesses
(PRWEB) July 09, 2012
The debut of the innovative European travel guide website, EuropeTravel.net, has been much anticipated as an exciting innovation that will help to promote local businesses by connecting them with travelers through personal interviews and travel stories. This groundbreaking site includes a blog and open travel social community that was designed to connect visitors and travel professionals, and help build an informative platform dedicated to all aspects of traveling throughout the 55 European nations. The main objective of EuropeTravel.net is to help create an informative network that will allow travel companies to reach out and connect with new customers, while offering something of value to everyone.
EuropeTravel.net offers travelers a way to easily create a customized account with as much, or as little, information as they desire. They can immediately begin uploading travel videos, sharing photos and even join in on discussions about European travel, news, and amazing European destinations in addition to engaging with others who share their passions, while exploring new travel opportunities and discovering great deals. Businesses receive a wealth of benefits that include the ability to upload videos that highlight the beauty of their location, amenities and more, and can easily create free classified listings on the site to promote their offers. This is a huge benefit with the site already having amassed 6,693 Twitter followers; businesses even have the advantage of being able to market directly to travelers, something that is not possible on other social networks or communities. Targeting offers directly to those most interested in their services allows a variety of travel businesses to engage with potential customers on an unprecedented scale.
One of the site's recent success stories involves business owner Ylenia Sambati and her Italian travel firm. YLTOUR was born in 1999, the result of an on-going search of the most charming aspects of Puglia, Italy, an area known for its bright seas, diverse art and architecture, mouth-watering cuisine and especially as the home to some of the kindest people in all of Italy. Ylenia was born and raised in Puglia, and with extensive experience in tourism and event planning she founded her company based on the region's wonderful history of culture, food, art, tradition, design and architecture, lifestyle, wine and the people.
Her company plans special tours and events based on the Puglia lifestyle, working closely with clients to fulfill their needs and desires, creating a specialized tour that offers an unforgettable experience for leisure, incentive and business travel, and a much more personal experience where the culture and traditions of southern Italy can truly be experienced.
Ylenia herself exemplifies the warmth and friendliness of the people of the region, with an obvious passion for what she does, and I had the pleasure of speaking with her via email recently to discuss her incredible venture.
Read more about this cutting-edge travel site at EuropeTravel.net, and discover more about YLETOUR by visiting their website at: http://www.yltourcongressi.com