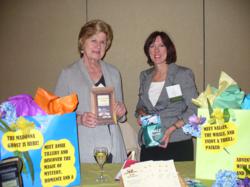 All aspects of the writing process were discussed, and very useful information was given.
Don't miss the next one!
Teresa Reid, CRM, B&N
Massapequa Park, N.Y. (PRWEB) July 12, 2012
Linda Maria Frank, author of Annie Tillery mysteries,and Karen Bonnet, children's author, have come a long way since self-publishing their own books. Frank, a retired science teacher who resides in Massapequa, created the riveting series, Annie Tillery Mysteries, including The Madonna Ghost and Girl with Pencil Drawing. Bonnet, a long-time Oceanside resident, is a writer and publicist with KLB Services, and the author of the exciting adventure novel, Whale Island and the Mysterious Bones, for children age eight to eleven years old.
Bonnet and Frank have been providing writers from all walks of life with an informative, visual, and interactive PowerPoint presentation and workshop, So You Want To Write a Story: A Conversation with Two Authors, that delves into the topics of writing, self-publishing, marketing, promoting, getting an agent, and keeping yourself happy while doing it.
Whale of a Tale: Adventures for Young Readers is the banner under which Frank and Bonnet promote their books, programs and TV show. They provide interesting and interactive workshops and programs for children, young adults and adults. They also sell their books on-line, and at fairs and other events.
Their latest endeavor in providing author workshops is to help those who have always wanted to see their fiction tale or nonfiction story in the published pages of a book or magazine, but were unsure of how to get started. This successful program has received an excellent response from amateur and veteran writers, as well as those in the process of writing their own stories. Frank and Bonnet are committed to reaching out and helping writers navigate the waters of the self-publishing industry including marketing strategies.
Their books can be found on Amazon.com and BarnesandNoble.com, on their Websites, and in local bookstores on Long Island, as well as e-book vendors, on-line, worldwide.
In the span of just two years (one year for Bonnet), their exciting journey has taken them on many different paths, which include speaking at various programs and events across Long Island, coordinating authors' book fairs, being accepted into authors' book groups, and producing their own public access television show, The Writer's Dream, featuring Long Island authors.
Whale of a Tale: Adventures for Young Readers is the logo Linda Maria Frank and Karen Bonnet provide access to their books, events and programs. They promote their own books as well as those of other authors who provide quality literature. A portion of the proceeds from sales of the authors' books are donated to The Interfaith Nutritional Network (The INN) in Hempstead, N.Y.,a non-profit organization that provides food and shelter for the needy.They also plan and organize events for other worthy causes.