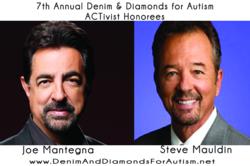 Proceeds from the 7th Annual Denim & Diamonds for Autism fundraiser will make it possible for ACT Today! to provide families access to therapy, medical care, assistance dogs, social skills programs, assistive technology, and even safety equipment.
Malibu, CA (PRWEB) July 08, 2012
ACT Today! (Autism Care and Treatment Today!), a national non-profit organization whose mission is to provide access to care and treatment to children with autism, announces it will honor "Criminal Minds" star Joe Mantegna and KCBS 2 and KCAL 9's President and General Manager Steve Mauldin at its 7th Annual Denim & Diamonds for Autism fundraiser on Saturday, November 3, 2012 a t the Calamigos Ranch in Malibu, California. Over 500 guests are expected to attend the red carpet fundraiser, including corporate leaders, celebrities, dignitaries and other autism supporters.
"Honoring Joe Mantegna was an easy decision. He hosted our ACT Today! for Military Families public service announcement and has hosted ACT Today!'s charity golf tournament for the last three years," says ACT Today!'s Executive Director Nancy Alspaugh-Jackson. "He and his wife Arlene have two daughters. The elder, Mia is 18 and had autism."
"I'm a firm believer you play the cards you're dealt in life," says Joe, during a recent interview. "I wish she didn't have to deal with it, but she's a happy girl. She knows she's autistic but it doesn't seem to impact her in a negative way as much as it does the support group around her. We try to keep her as involved in the world as possible, and it's okay. People are kind and understanding if you meet them half-way and her sister (Gina) is a remarkable human being."
Alspaugh-Jackson says ACT Today! is honoring Steve Mauldin because to families dealing with a child with autism, Mauldin is known as a tireless champion and fundraiser. His daughter Stephanie, one of his four children, has autism. Mauldin started the autism community resource fair called Stephanie's Day in her honor.
"What Stephanie's Day provides for families is invaluable," says Alspaugh-Jackson. "As a mother of a child with autism, I know firsthand how important credible resources are and the difference they can make in the lives of families struggling to stay afloat and get answers to their questions."
According to the Centers for Disease Control and Prevention (CDC), 1 in every 88 children in America is diagnosed with an autism spectrum disorder (ASD), making ASD more prevalent than juvenile diabetes, childhood cancer and pediatric AIDS combined.
Proceeds from the 7th Annual Denim & Diamonds for Autism fundraiser will make it possible for ACT Today! to continuing providing families access to therapy, medical care, assistance dogs, social skills programs, assistive technology, and even safety equipment like helmets for the self-injurious children, as well as fencing for those who wander.
To date the event sponsors, include: Vin Di Bona Productions, Reaction Audio Visual, TWIW Insurance Services, LLC., Natrol, Sandy and David Stone, Universal City Nissan, Wells Fargo, CodeMetro, City National Bank, Burbank Printing, Charity Lives, Linda Bertch, Isabella Emporium, and The Resort at Pelican Hill.
For more information about the 7th Annual Denim & Diamonds for Autism, visit http://www.DenimAndDiamondsForAutism.net.
About Joe Mantegna:
Joe Mantegna has received critical acclaim for his award-winning and highly praised performances on the stage and in numerous film and television productions. He was awarded the Tony and Joseph Jefferson Awards for his role in David Mamet's Pulitzer Prize-winning play Glengarry Glen Ross. His long-standing association with Mamet includes the premieres of A Life in the Theatre, The Disappearance of the Jews and Speed The Plow on Broadway. Mantegna has also directed a highly lauded production of Mamet's Lakeboat, which enjoyed a successful theatrical run in Los Angeles and he later directed the film version starring Peter Falk, Robert Forester, Andy Garcia, Charles Durning, Denis Leary and George Wendt.
In the world of film, he has starred in over 90 films. Among them The Godfather III, Alice, Celebrity, Liberty Heights, Bugsy, Forget Paris, and Searching for Bobby Fisher. He starred in the critically acclaimed Mamet films House of Games, Homicide, and Things Change, for which he received the Best Actor Award at the Venice Film Festival. In Always the baseball fan, Joe conceived and co-wrote the Off-Broadway play Bleacher Bums, which earned him an Emmy when it was subsequently produced for television. Joe is a three-time Emmy nominee, First for his work in the HBO special The Rat Pack, where he was also nominated for a Golden Globe Award for his portrayal of Dean Martin. For his role of Pippi De Lena in the CBS mini-series, The Last Don and finally in 2007 for his work in the USA network series, The Starter Wife. In 2008 Joe won the Best Actor Award for his work in Elvis and Annabelle from the Newport Beach Film Festival. In recent years Joe has stared in the critically acclaimed CBS series' First Monday, Joan of Arcadia. For the last 21 years, he has been the voice of Fat Tony on the Fox series The Simpsons. Joe also lent his voice to Disney/Pixars 2011 smash hit CARS2. He currently stars as David Rossi in Criminal Minds as well as hosting and producing duties on "Gun Stories" for the Outdoor Channel. April 2011 Joe received a star on the Hollywood Walk of Fame for his work in live theater. Joe is also involved in may charitable works including the Inclusion Films and Performing Arts Studio West. He dedicates countless hours spreading autism awareness with national non-profit organization ACT Today! (Autism Care and Treatment Today!).
About Steve Mauldin:
Steve Mauldin was named President and General Manager of CBS 2 and KCAL 9 in Los Angeles, the largest local television duopoly in the country, in December 2009. Building on his long track record of significantly improving the performance of local stations and leading them to first place in late news, Mauldin has been responsible for overseeing a renaissance at CBS 2 and KCAL 9, highlighted by dramatic across-the-board ratings growth for the stations' daily 11-and-a-half hours of local newscasts, the addition of weekend morning newscasts and "Eye on Our Community" news specials. Under Mauldin's leadership, CBS 2 News at 11 p.m. has become the fastest growing late newscast in the Los Angeles market with viewership increasing by 37 percent during the past two years. In February 2012, CBS 2 won the highly competitive 11 p.m. news competition in the key adults 25-54 demographic. Also, KCAL 9 News at 10 p.m. has emerged as Southern California's most-watched primetime newscast, with victories during five of the last six major sweep periods.
In addition, Mauldin has strengthened and expanded the stations' commitment to public service by working closely with numerous local government, law enforcement and non-profit organizations. Mauldin is a Stage IV cancer survivor and has long been involved in fundraising for the American Cancer Society. He is also deeply committed to building awareness of autism, as his daughter Stephanie has autism. His devotion to this cause inspired him to create a series of annual events, named for Stephanie. "Stephanie's Day," which began in Miami and Dallas-Fort Worth and made its Los Angeles debut in August 2011, is a resource fair that brings special needs children and their families together with numerous non-profit organizations that can provide the specialized services those families need.
Prior to joining CBS 2 and KCAL 9, Mauldin spent six years as President and General Manager of KTVT-TV and KTXA-TV, the CBS-owned duopoly in Dallas-Fort Worth. It was under his leadership that KTVT earned its first-ever late news victory during the November 2009 sweep. In addition, he also oversaw CBS's entire group of stations in the Southwestern United States when the company also owned stations in Austin and Oklahoma City.
About ACT Today!:
ACT Today! (Autism Care and Treatment Today!) is a 501(c)(3) non-profit organization dedicated to raising awareness and providing treatment services and support to families of children with autism who cannot afford or access the necessary tools their children need to reach their full potential. For more information about ACT Today!, visit: http://www.act-today.org.