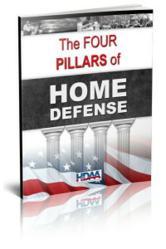 I don't expect to have to pull the trigger in self-defense tomorrow, but I am going to prepare myself to the best of my ability to ensure that IF something were to ever happen, I'm 100% ready for it
Jackson, WI (PRWEB) July 11, 2012
The Home Defense Association of America recently announced the release of a free report that every homeowner should have - The 4 Pillars of Home Defense.
"From a preparedness perspective, I don't care if a violent crime occurs once every 22 seconds or once every 22 days. I don't expect to have to pull the trigger in self-defense tomorrow, but I am going to prepare myself to the best of my ability to ensure that IF something were to ever happen, I'm 100% ready for it," said Tim Schmidt, HDAA president and CEO.
This report answers the questions:

How common are home invasions?
What are the self-defense laws in your state and what is the "Castle Doctrine"?
What is the best gun and ammo for home defense?
What happens after the shooting stops?
How do I convince my wife and family that we need to prepare for this?
How do I develop a "Home Defense Plan"?
"When I look around at the state of crime in the US, it would be easy to get discouraged. According to the FBI, a burglary occurs every 14 seconds in the US. A violent crime occurs every 22 seconds," said Schmidt.
Because most people never expect to be the victim of a violent crime, they never prepare for the consequences. But Schmidt released this report for free because he's interested in the safety of others.
The HDAA report makes it clear that no home can be made invulnerable to attack, but it can be made far less inviting to a potential criminal with a few simple of the defense tips found in this report. Some of them are easy-to-complete measures that you can take, but probably never think about.
One simple tip is to trim bushes around your windows. Hedges that hide windows make it easier for a burglar to hide while breaking into your home.
"Many people have an escape plan in case of fire, but few have a plan to cope with a criminal breaking in. Yet, a home is MANY more times likely to be broken into than to catch fire. For the most safety possible, you must have a plan to handle a home invasion. That plan needs to be rehearsed so your family will act instead of sitting petrified," Schmidt said.
To download the report, visit the Home Defense Association of America, and better protect yourself and your loved ones today.
About Delta Defense, LLC:
Delta Defense, LLC is devoted to armed citizens who have decided to conceal and carry guns or to those who desire to protect their homes and families. Delta Defense supports and educates its members via the United States Concealed Carry Association (USCCA) with a print magazine, an online membership site, a private members-only concealed carry forum on the web, and a nationally syndicated radio program—Armed American Radio. The Home Defense Association of America (HDAA) is devoted to home defense and family safety. The USCCA and the HDAA are 100% advertising-free, assuring members have access to completely unbiased gun, gear and course reviews.