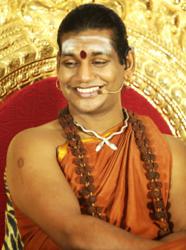 If one has never trusted in their life that impossible is possible, then they die as depressed beings.
(PRWEB) July 09, 2012
July 5th 2012, Inner Awakening Program- Day 4, India: His Holiness Paramahamsa Nithyananda said, "Just reading the Sanskrit verses and translations in the Bhagavad Gita is one of my entertainments. It is a not a philosophical book, it is a very powerful entertainment.
His Holiness Paramahamsa Nithyananda translated the verse 16 in the Bhagavad Gita Chapter 5 as: 'Whose ignorance is destroyed by the knowledge, their knowledge, like the rising sun, throws light on the supreme consciousness.'
He said, "you don't need to gain knowledge. You don't need to gain enlightenment. It is there like a sun shining within you. All you need to do is work on removing the ignorance. This one small understanding shifts the way you put your efforts. Many traditions have enormous amount of literatures and have the attitude of gaining more and more knowledge. They lost the enlightenment experience.
The attitude with which you start the journey will play a major role in the success of your journey. You need to read, not to gain knowledge, but to dispel the ignorance. You are the sun covered by clouds, cloud has to be dispersed and the sun will shine again. I will call only this as the right knowledge towards enlightenment.
Just reading the books and information is one of the worst addictions which can keep enlightenment experience away from you. It is worse than addiction to drugs and alcohol, because the whole world is against these substance addictions and at one point will help you get out of it. But the whole world supports reading books and gaining knowledge. Only an enlightened Master's initiation can help you shift towards experiencing the truth.
Satsanga, being with the Truths, Master and Mission in a unclutched way ( Buddha, Dhamma & Sangha) is the ultimate way, to experience the truth."
On the 4th day of the 21 Day Inner Awakening Retreat, Paramahamsa Nithyananda answered the questions of participants during the morning world wide discourse. In response to a question on why perfectly logical highly educated people drop their logic and follow Him, he said, "Blessed are those who have even seen in their lives, something beyond the bandwidth of their logic and senses. They are not dropping their logic, they are understanding and upgrading the bandwidth of their logic. Their ordinary logic is taking a quantum jump.
Spiritual seekers and disciples understand that extraordinary experiences cannot be explained by conditional logic, and the conditional logic does not have enough bandwidth to capture what is happening. Then the third eye which is beyond logic opens up.
If one has never trusted in their life that impossible is possible, then they die as depressed beings. Atheist is a person who is very clear that impossible is impossible. Theist is a person who believes possible is possible. Disciple is a person who has got a glimpse of the possibility of impossibility. Master is a person radiating impossibility in every possible way.
I am not a orator. I am only an authentic expresser."
More information on Paramahamsa's revelations on Conflict Free Living can be found at http://innerawakening.org/benefits-of-ia/enlightenment
Contact:The Life Bliss Foundation
1- 909 - 625 -1400 / info(at)lifebliss(dot)org
ABOUT HIS HOLINESS PARAMAHAMSA NITHYANANDA:
Videos on Enlightenment Science:
http://www.youtube.com/watch?v=ty1DtDKt-08&feature=plcp
Inner Awakening videos
http://www.youtube.com/playlist?list=PLD5E80C03E360B2F8&feature=plpp
Paramahamsa Nithyananda is not only one of the most watched Spiritual Guru on YouTube, he is ranked as one of the world's 100 most spiritually influential personalities. He has recently inherited the world's oldest and most ancient Hindu Spiritual Organization – the Madurai Aadheenam, by being coronated as the 293rd pontiff of Madurai Aadheenam.
Paramahamsa Nithyananda is a global leader in yoga, meditation, kundalini awakening enlightenment science. Clear, dynamic and modern in approach, Nithyananda's teachings have already transformed 15 million followers in 150 countries with the fastest growing spiritual community around the youngest incarnation.
Paramahamsa Nithyananda remains always grateful to the spiritual masters and the rich spiritual heritage of India which made it possible for him to learn and practice these timeless spiritual truths. Wishing to share his spiritual understanding with others and dedicate his life to the service of humanity, he entered into the public life and set up his spiritual organization, to reveal to the world, the science and benefits of our ancient mystical yogic tradition and disciplines.
Paramahamsa Nithyananda has made an indelible mark on the international spiritual scene, attracting educated and committed followers with his engaging way of demystifying the Vedic truths and re-interpreting them in the light of modern living. His down to earth approach to spirituality and his image of a tech-friendly guru, who illustrates the truths of Vedanta using a laptop, and uses modern analogies to instill Vedic values has found him admirers amongst the educated youngsters and their parents alike.