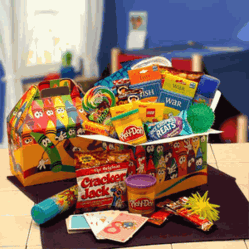 Show you care to that special little one in your life
San Francisco, CA (PRWEB) July 09, 2012
MyGiftBasketIdeas.com has solved the dilemma of what to send for a little girl or boy's special occasion with its new section on children's gifts. It now has an extensive line of kids gift baskets that demonstrate that it is not just grown-ups who can have all the fun. They are suitable for children's birthdays, religious events, grade school graduations or just an extra-special treat.
A company spokesperson from MyGiftBasketIdeas.com said, "It can be difficult to choose that perfect gift for a young person's milestone event or birthday. Why choose one gift when you can select many? The many options to choose from come with the advantage of appearing like a hundred fun presents in one, filled with all the favorite treats of the special little boy or girl."
When asked to give examples of occasions for which customers opt for kids' gift baskets, the spokesperson from My Gift Basket Ideas replied, "Increasingly, shoppers have been sending ones to children starting new schools, or to congratulate kids for exam results, musical performances or sporting victories. They are a great way to show encouragement and pride in their accomplishments."
Although specific occasions and achievements make great reasons for sending them, they also can be a pertinent way for far-away family members to show they care
"Gift baskets for young adults are a great way for a parent, grandparent, aunt, or uncle who lives far away to let that child know they are thinking of them from across the miles. The 'Fun Gift Basket' is packed full of joy and excitement. Alternatively, our creature-comfort laden 'Away From Home 101 Care Pack' is perfect for making them realize that you might not be near enough for a hug but you are right there with them in spirit."
To browse the wide selection of children's gifts available, go to
http://www.mygiftbasketideas.com/gift-baskets-for-kids.html
###