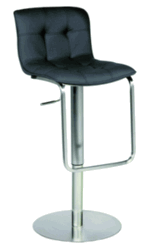 The addition of a stool that swivels can be a moderate and simple way to make your home feel larger and cleaner lined
San Francisco, CA (PRWEB) July 10, 2012
Stools that swivel are a budget-friendly space-saving solution, says Barstoolsforless.com as it unveils its extended swivel bar stool line.
A spokesperson from Bar Stools for Less explained, "It is so much more cost-effective to consider affordable ways to make our homes or workplaces appear larger. Renovation is not an option for many at the moment, so there is a need to be creative. As a result, we are unveiling an entirely new line of moderately priced stools that bring motion, as well as affordability to your home."
When asked why the focus on stools that swivel, the spokesman said, "A highly effective but modestly priced idea is to change the type of seating in your kitchen or indoor bar area. Simply swapping out conventional seating for backless swivel stools can add the illusion of space without breaking the bank. Also, importantly, our swivelling options come in a range of heights. Customers need to take a measurement of their counter top or table and select the stool height that can easily slide under the table. The perception of space is ¾ what you see, and if the eye sees a clean, unbroken line of space in its vision, it fosters a feeling of being in a large, airy space."
When asked if there were any specific pointers that should be considered while selecting their chosen stool, the spokesperson gave some salient advice.
"If shoppers plan on using bar stools outdoors, they should be rated by us as 'suitable for outdoor use.' Rain, wind and the relentless sun can take a huge toll on furniture; ensuring that you select swivel bar stools that are durable for outdoor use, you can look forward to enjoying them for many years to come."
"Equally important is to think about the color and material of your selection. Lighter colors are best for lengthening perspective in small rooms, while cushioned or retro styled stools add some old world charm."
The site's entire stool collection can be found at http://BarStoolsforLess.com and the newly expanded section for stools that swivel can be found at
http://www.barstoolsforless.com/swivel-bar-stools.html
###